Key Trends Report: APEC Global Supply Chains Resiliency Survey - Small to Medium Enterprises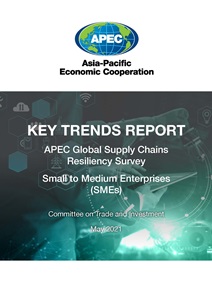 | | |
| --- | --- |
| Published Date | May 2021 |
| Type of Publication | Reports |
| Publication Under | Committee on Trade and Investment (CTI) |
| Accessed | 2108 |
| Pages | 44 |
| Download publication | Download |
Description
Key highlights:
Supply chain linkages between SMEs and other SMEs, as well as between SMEs and large businesses vary from one -to-one, to one-to-many in their scope. A majority of the respondent SMEs are connected with at least one large business, suggesting the important role of SMEs in supporting larger businesses and mutual dependencies.

With regards to selling goods and services as inputs into large businesses' global supply chains, most SMEs sell to large businesses, with almost a third selling to between 1 and 3 large businesses. The numbers are similar in terms of SMEs receiving goods and services from large businesses as inputs into their global supply chains, with almost a third coming from between 1 and 3 large businesses. These insights support the idea that SMEs play a critical role in cross-border supply chains and are not restricted to domestic markets.

SMEs require direct government support in some specific areas to continue to grow their business within global supply chains. Specifically, SMEs need governments to focus more on removing obstacles and creating a conducive environment for trade and global business.

Most of the respondent SMEs consider that the primary challenges they faced when selling goods and services into global supply chains before the COVID-19 pandemic were receiving payment issues, followed by local regulations, local language, culture and business practices, delivery delays, and also standards and conformance requirements.

The main disruptions that businesses have experienced as a result of the COVID-19 pandemic included reduced customer demand, delivery delays/failures, customer insolvency/cash flow issues, cost of logistics, and lack of air freight capacity.

SMEs stated that they are relying on governments to help to reduce complex trade regulations and barriers where possible. For SMEs operating in global supply chains, their main demand is to create a business environment that, on one hand, enables them to operate and grow, while on the other hand, reduces considerably regulatory requirements, logistics, compliance and financial risks.

SMEs need to get support in niche and developing areas for future skills development. Areas include: digital transformation (mainly Customer Relationship Management [CRM] systems, cybersecurity, and E-commerce); sustainable global supply chains; trade and investment in digital trade; automation and artificial intelligence.