Report on Results of Survey Questionnaire on Domestic Treatment of Illicit Streaming Devices by APEC Economies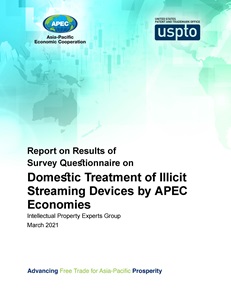 | | |
| --- | --- |
| Published Date | March 2021 |
| Type of Publication | Reports |
| Publication Under | Committee on Trade and Investment (CTI), Intellectual Property Rights Experts Group (IPEG) |
| Accessed | 2816 |
| Pages | 177 |
| Download publication | Download |
Description
As streaming technology has expanded, consumers have turned to illicit sources for entertainment content and illicit streaming device (ISD) usage has risen substantially. The issue of domestic legal treatment of ISDs is a timely concern for content creators, owners, distributors, and right holders.

Among the report's findings:
Majority of economies (15) believe use of ISDs, and the economic harm it causes, is problematic.
Nearly all economies (20) reported civil or criminal laws in place to address ISDs.
Majority of economies (15) believes their current legal framework suffices to investigate or take action against ISDs.
Majority of economies (11) reported conducting actions against ISDs, either as law enforcement or regulatory agency investigations into the sale or advertising/offering for sale of ISDs.
About half of economies (10) reported using public consumer awareness campaigns, online educational materials, or public or social media advertising to educate consumers about the risks of using ISDs.