APEC Economic Study on the Impact of Cruise Tourism: Fostering MSMEs' Growth and Creating Sustainable Communities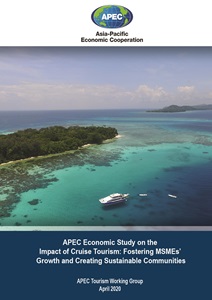 | | |
| --- | --- |
| Published Date | August 2020 |
| Type of Publication | Reports |
| Publication Under | SOM Steering Committee on Economic and Technical Cooperation (SCE), Tourism Working Group (TWG) |
| Accessed | 3062 |
| Pages | 151 |
| Download publication | Download |
Description
The cruise tourism sector is considered one of the most rapid growing segments in the tourism industry. Given the rise of cruise tourism activity in APEC economies, data to analyse the economics of cruise tourism is vital, especially data that focuses on communities as the recipients of economic benefits.

This report provides a study through baseline data on the cruising effect on local communities, more specifically, micro, small and medium enterprises (MSMEs) in local communities in participating APEC economies and how the income generated from the cruise sector leads to better standards of living for local people. This data will be used to support further strategic sustainable development of cruise tourism and to identify opportunities to increase positive impacts and safeguard the livelihoods of local economies.

The project aims to specifically address people-to-people connectivity with emphasis on building cooperation between APEC economies by connecting the region's developed and emerging growth centres. By doing so, APEC will strengthen and deepen its regional economic integration, improve the region's quality of growth, and contribute to the Asia-Pacific economic resilience, furthermore; enhancing interaction, mobility and joint ventures in the region.