Supporting MSMEs' Digitalization Amid COVID-19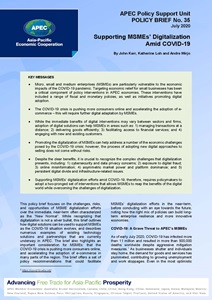 | | |
| --- | --- |
| Published Date | July 2020 |
| Type of Publication | Reports |
| Publication Under | APEC Secretariat, APEC Policy Support Unit |
| Accessed | 11786 |
| Pages | 9 |
| Download publication | Download |
Description
Key messages from this policy brief are:
MSMEs are particularly vulnerable to the economic impacts of the COVID-19 pandemic. Targeting economic relief for small businesses has been a critical component of policy interventions in APEC economies. These interventions have included a range of fiscal and monetary policies, as well as initiatives promoting digital adoption.
The COVID-19 crisis is pushing more consumers online and accelerating the adoption of e-commerce – this will require further digital adaptation by MSMEs.
While the immediate benefits of digital interventions may vary between sectors and firms, adoption of digital solutions can help MSMEs in areas such as: 1) managing transactions at a distance; 2) delivering goods efficiently; 3) facilitating access to financial services; and 4) engaging with new and existing customers.
Promoting the digitalization of MSMEs can help address a number of the economic challenges posed by the COVID-19 crisis; however, the process of adopting new digital approaches to selling does not come without risks.
Despite the clear benefits, it is crucial to recognize the complex challenges that digitalization presents, including: 1) cybersecurity and data privacy concerns; 2) exposure to digital fraud; 3) online misinformation; 4) asymmetric market power and platform dominance; and 5) persistent digital divide and infrastructure-related issues.
Supporting MSMEs' digitalization efforts amid COVID-19, therefore, requires policymakers to adopt a two-pronged set of interventions that allows MSMEs to reap the benefits of the digital world while overcoming the challenges of digitalization.