Developing Indicators to Assess the Strength of Standards and Conformance (S&C) Infrastructure in APEC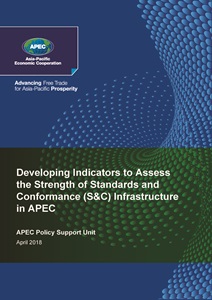 | | |
| --- | --- |
| Published Date | April 2018 |
| Type of Publication | Reports |
| Publication Under | APEC Secretariat, APEC Policy Support Unit |
| Accessed | 13310 |
| Pages | 109 |
| Download publication | Download |
Description
Developing stronger standards and conformance (S&C) infrastructure supports APEC's agenda of trade facilitation by reducing bilateral trade costs. With the rise of GVCs, it becomes even more pertinent to comply and harmonise with standards in production and distribution networks. This report aims to analyse the strength of S&C infrastructure in the region. To do this, surveys were completed by member economies and six case studies were conducted on Australia, China, Japan, Peru, Singapore and Viet Nam.

The surveys and case studies show that APEC economies are in general active in international and regional S&C bodies. However, the level of involvement is higher among the developed economies. APEC's overall alignment with international standards like ISO, IEC, and APMP is strong. Most of the economies are developing processes to create standards that adhere to future needs and also conducting outreach programmes to increase the knowledge on S&C.

The case studies concluded that business uptake of S&C varies across firms and economies. Nevertheless, interviewees from all economies agreed there is a strong rationale to increase standards adoption, particularly for firms entering GVCs as they depend heavily on standardised goods and services. Many also noted the need to remain innovative and plan for future developments, especially in the areas of services, cybersecurity, and other internet technology.