Promoting E-commerce to Globalize MSMEs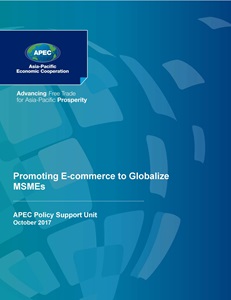 | | |
| --- | --- |
| Published Date | November 2017 |
| Type of Publication | Reports |
| Publication Under | APEC Secretariat, APEC Policy Support Unit |
| Accessed | 18864 |
| Pages | 96 |
| Download publication | Download |
Description
There are many anecdotal stories about how small enterprises have grown by selling through e-commerce but why are these successes not more widely shared among SMEs? This study tries to understand the constraints faced by SMEs to participate in e-commerce, particularly cross-border e-commerce (CBEC) drawing from focused group discussions among e-commerce stakeholders conducted in five economies: Brunei Darussalam; China; Malaysia; Korea; and Chinese Taipei.

The case studies give a sketch of the e-commerce ecosystem and the multiple stakeholders involved that help make the system work smoothly and efficiently. Regulations that adversely affect any of the players in the ecosystem impact the whole, including the buyers and sellers, some of whom are SMEs. Logistics cost, for example, is a significant portion of e-commerce cost. SMEs need volume in order to be competitive. Payment service providers are another important link and their unavailability stymies e-commerce sellers. Good digital infrastructures including ICT, payment services, postal services and others are important for the development of e-commerce and internationalization of SMEs. Just as important are the regulatory infrastructures like transparent regulations, expeditious customs clearance through for example electronic single window, and overall facilitative business environment starting from business registration to taxation to application of international standards.

Initial introductions to e-commerce for SMEs usually happen through social media like Facebook or Instagram but marketplace e-commerce technology platforms facilitate access to a wider market, and particularly in the case of cross-border trade, provide the necessary regulatory information collection that SMEs need to sell abroad. The complexity of regulations and the disproportionate cost in money and time to collect, understand and meet these regulations is a major hurdle for SMEs. SMEs also face the challenge of meeting requirements on sustainability, and industry and product standards particularly for cross-border e-commerce.