APEC Building Codes, Regulations, and Standards: Minimum, Mandatory and Green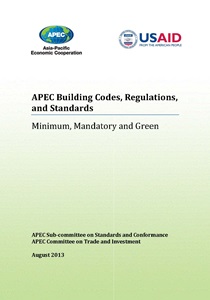 | | |
| --- | --- |
| Published Date | August 2013 |
| Type of Publication | Reports |
| Publication Under | CTI Sub-Fora & Industry Dialogues Groups, Sub-Committee on Standards and Conformance (SCSC) |
| Accessed | 20052 |
| Pages | 227 |
| Download publication | Download |
Description
This study was developed for the purpose of understanding how APEC member economies utilized building codes to increase building performance, aligning with the "green" goals of resource conservation and waste reduction. Building codes historically have been important policy tools for managing the safety, security, health, environment, and economy of the building sector.
1. Executive Summary

2. APEC Economy Reports which seeks to detail:
- The approach to developing, adopting, administering and enforcing building codes.
- How existing codes establish minimums for key elements.
- Any existing "green" building codes.
- Protocols and mechanisms in place for monitoring, review, and assessment.