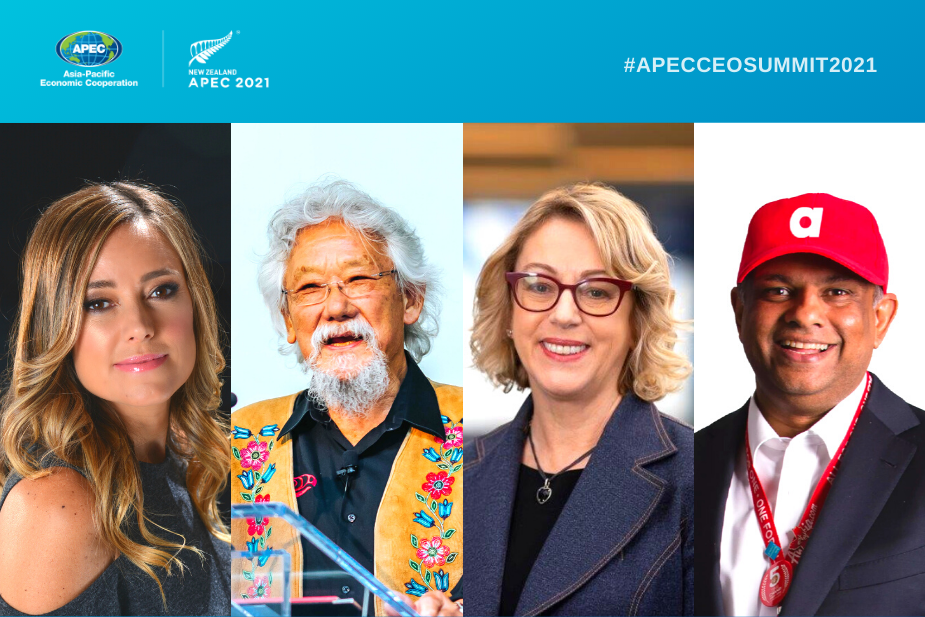 APEC CEO Summit to Focus on COVID, Disruption and Trust; Registrations Open
Auckland, New Zealand, 16 September 2021
An entrepreneur who started a no-frills airline, an award-winning scientist and broadcaster focused on helping humanity and protecting nature, and an internationally renowned tech reporter and innovator are the first to be announced in the speaker line-up at the APEC CEO Summit 2021.
Registrations are now open. The summit will be held as a physical and virtual event for the first time in APEC's history. Attendees in Auckland, New Zealand, will be joined online by delegates from around the world on 11 and 12 November. Thousands of delegates including top-tier executives, business leaders, entrepreneurs and experts are expected to attend.
"Delivering comprehensive, private-sector perspectives to APEC's Leaders and impacting positively on the challenges we are all facing requires strong inputs from the region's business community," said the summit Chair, Barbara Chapman. "The summit, as part of the APEC process, really provides the opportunity for businesses to engage in the agenda, especially as the region learns how to live with COVID and navigate life after the pandemic."
The first three virtual speakers were announced last week, when registrations were opened. They are Dr David Suzuki, a gifted interpreter of science and nature; Amber Mac, an award-winning podcaster, TV host, bestselling author and technology reporter; as well as one of Asia's most recognizable entrepreneurs, Tony Fernandes.
"With the health pandemic and economic crisis impacting the way the region does business, policy development has to be well-coordinated, coherent and complimentary. The only way that governments can do this is by allowing different voices in the room, including all parts of society at the table," said Dr Rebecca Sta Maria, Executive Director of the APEC Secretariat.
"Having inputs from the business community through the APEC CEO Summit is crucial in the development of sound policies in APEC to ensure resilience in our economy and better prepare for future shocks," Dr Sta Maria added.
The APEC CEO Summit 2021 will focus on five themes:
The State of the World with and post-COVID

: economic recovery, trade and protectionism.

The Digital Disruption Opportunity

: digital transformation, technology and innovation, and the importance of digital equity.

The Primacy of Trust

: ESG (environmental, social, governance) – the next focus for business, and business as a force for good.

The Future of Energy

: clean technology, renewable energy, and energy transition.

The Sustainability Imperative

: sustainable growth, climate change, food sustainability.
Visit the APEC CEO Summit 2021 website for the latest news and information on the program, speakers and registration.
Members of the media are welcome to attend the APEC CEO Summit 2021, virtually, and in person for New Zealand-based media. To attend, media representatives must complete the registration form. A photo of a business card or press ID, or an email or letter confirming employment may be requested to support the application. Visit this page for more information.
For further details, please contact:
Cas Carter +64 21 341 509 at [email protected] (in New Zealand)
Sidah Russell +64 21 359 235 at [email protected] (in New Zealand)
Masyitha Baziad +65 9751 2146 at [email protected]
Michael Chapnick +65 9647 4847 at [email protected]