Prime Minister Muhyiddin Yassin Called for Unity in Combatting Pandemic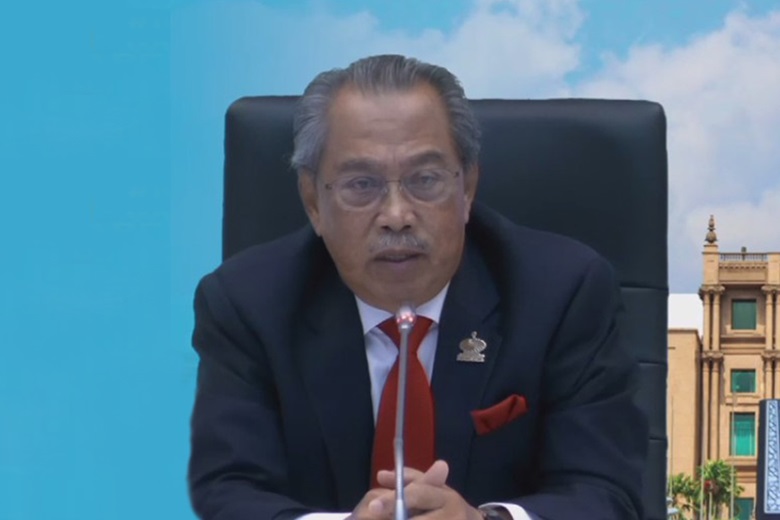 Malaysia's Prime Minister Muhyiddin Yassin opened the 2020 APEC Economic Leaders' Meeting virtually on Friday by urging member economies to stay united in combating the pandemic and highlighting the need for an affordable, accessible and equitable access to the COVID-19 vaccine.
"As a grouping whose economies constitute about 60 percent of the global economy, APEC assumes a central role in spearheading post-pandemic economic recovery," Prime Minister Muhyiddin Yassin said during his opening remarks at the virtual APEC Economic Leaders' Meeting.
Under the 2020 APEC Malaysia theme of Optimising Human Potential towards a Resilient Future of Shared Prosperity. Pivot. Prioritise. Progress, Prime Minister Muhyiddin Yassin underscored the progress APEC has made on trade and investment in the last three decades and the benefits it brings.
"Through the expansion of trade, Malaysians are able to experience positive spill-over effects in the form of job creation, knowledge transfer and the strategic placement of our micro, small and medium-sized enterprises (MSMEs) in the global value chain," said Prime Minister Muhyiddin Yassin who chaired the meeting. "To date, Malaysia's trade with APEC member economies has increased by more than seven-fold in the past decade."
Leaders are discussing collective regional actions to accelerate economic recovery, including reaffirming support and commitment for the rules-based multilateral trading system and bolstering digital economy to accelerate job generation and quickly return workers to employment.
Parallel focus will be on boosting more inclusive economic growth in a bid to build back better post-pandemic. While there is no denying that trade and investment has led to economic growth and greater prosperity in the Asia Pacific region, Prime Minister Muhyiddin Yassin reminded leaders of a collective concern that not all segments of society have benefitted from such wealth. "The onus is on us, as leaders, to bring the distributive effects of trade and investment to all our people."
"In Malaysia's view, this can be achieved through shared prosperity," Prime Minister Muhyiddin Yassin said. "Shared prosperity is about mainstreaming economic development and centre-staging prosperity, to enable all members of our society to participate effectively in economic activities, and benefit from the resulting growth."
Leaders are expected to endorse a joint declaration at the end of the meeting, as well as announcing the new vision for APEC as a forum.
# # #
For further details, please contact:
Masyitha Baziad +65 9751 2146 at [email protected]
Michael Chapnick +65 9647 4847 at [email protected]
More on APEC meetings, events, projects and publications can be found on www.apec.org. You can also follow APEC on Twitter and join us on Facebook, LinkedIn.