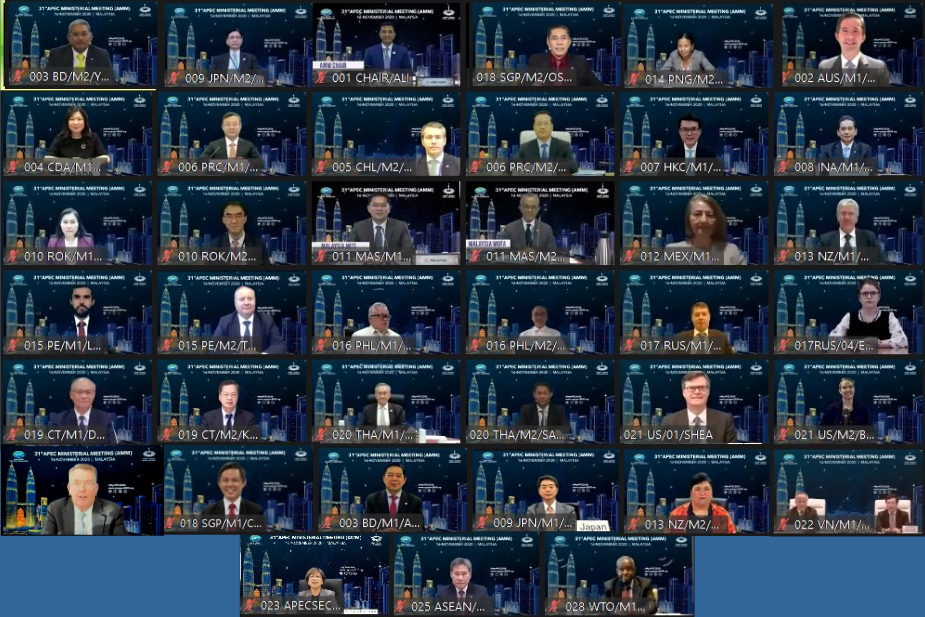 APEC Ministers Issue Joint Statement
Kuala Lumpur, Malaysia, 17 November 2020
Ministers from the APEC's 21 member economies issued a joint statement following the virtual APEC Ministerial Meeting chaired by Malaysia's Senior Minister and Minister of International Trade and Industry Dato' Seri Mohamed Azmin Ali.
The joint ministerial meeting reflects a united front by APEC member economies and a concerted effort to push forward a regional economic recovery in the region and rebuild better. Ministers assessed the forum's achievements in 2020, provided guidance on future work and further advanced economic integration in the region. These include focus in the following areas:
Trade and investment

Digital Economy and Technology

Structural Reform

Economic and Technical Cooperation

Thematic and institutional matters
View 2020 APEC Joint Ministerial Statement
The conclusion of the APEC Ministerial Meeting sets the stage for the first-ever virtual APEC Economic Leaders' Meeting on Friday, 20 November 2020.
# # #
For further details, please contact:
Masyitha Baziad +65 9751 2146 at [email protected]
Michael Chapnick +65 9647 4847 at [email protected]
More on APEC meetings, events, projects and publications can be found on www.apec.org. You can also follow APEC on Twitter and join us on Facebook, LinkedIn.