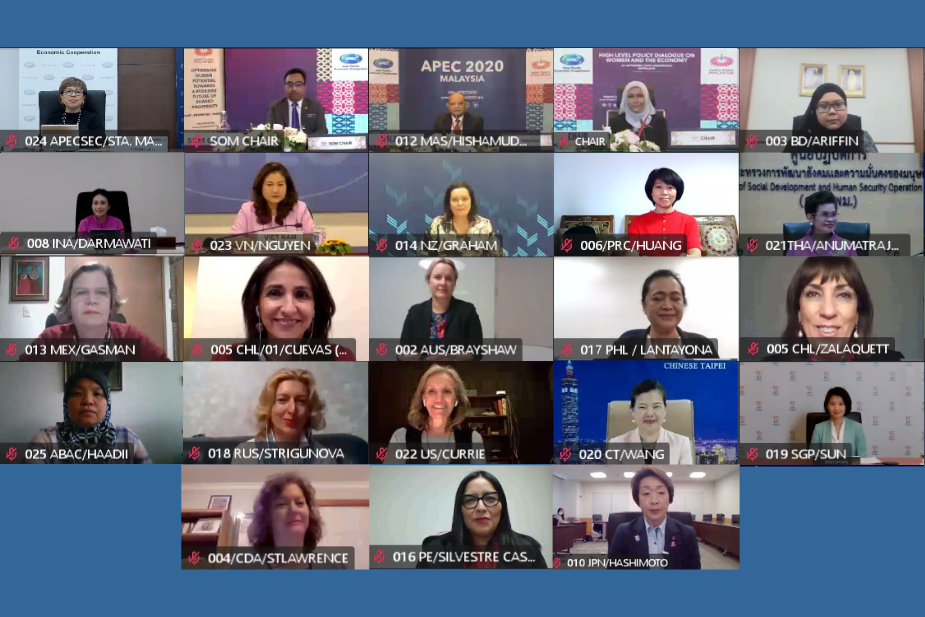 Women and Girls are at the Center of Economic Recovery Efforts
Putrajaya, Malaysia, 01 October 2020
Gender and economic development ministers and senior officials from APEC member economies will intensify their efforts to advance women's economic empowerment in a bid to broaden and strengthen economic recovery in the Asia-Pacific.
Meeting virtually on Wednesday, members committed to put women and girls at the center of economic recovery efforts, by creating opportunities that can further unlock their potential, remove barriers and better drive economies towards a swift, inclusive and sustainable recovery.
"The impact of the current health and economic crisis is being felt disproportionately by women and girls across the APEC region due to the existing gender inequalities," said Malaysia's Minister of Women, Family and Community Development, Datuk Seri Rina Mohd Harun, in her opening remarks at the High-Level Policy Dialogue on Women and the Economy.
"Women face higher levels of economic hardships, income and job losses, forced to take more hours of unpaid care work and more susceptible to face domestic violence."
"Despite all the challenges brought by the COVID-19 pandemic, our main attention and commitment to enhance the women's agenda, especially in strengthening the socioeconomic well-being of all women and girls in this region, remains indispensable," she added.
A recent report by the McKinsey Global Institute calculated that women's jobs are 1.8 times more vulnerable to this crisis than men's. Women may also be at greater risk or exposure due to occupational sex-segregation—according to a United Nations' policy brief, women make up 70 percent of the health workforce and are more likely to be frontline health workers, especially as nurses, midwives and community health workers.
Datuk Seri Rina highlighted the importance of APEC not only as a policy forum, but as a platform to advance regional joint actions towards providing equal access to resources and opportunities for women and girls to benefit from and contribute to redeveloping our economy.
"It is critical for APEC economies to adjust our policies urgently to support, empower and effectively address the varying degrees of multidimensional and damaging impacts on women and girls in the region during this pandemic," she added.
Recognizing that more effort is needed, especially in the area of women's participation in the digital economy, leadership and science, technology, engineering and mathematics (STEM), Datuk Seri Rina urged member economies to intensify public partnerships and engagement with the private sector. She stressed the role of the La Serena Roadmap on Women and Inclusive Growth as an important guide for members for achieving the women's empowerment agenda.
Endorsed in Chile, last year, the roadmap seeks to encourage actions in several cross-cutting areas affecting economic growth for women. This includes access to capital and markets, labor force participation, access to leadership positions, education, training and skills development. The roadmap also encourages promoting more access for women in the context of a constantly changing world of work, as well as advancing sex-disaggregated data collection and analysis.
"Women workers and women-led small businesses continue to bear the brunt of the negative side effects of travel restrictions, lockdowns and social distancing regimes because women are in consumer-facing services sectors," explained APEC Secretariat Executive Director, Dr Rebecca Sta Maria in her remarks at the forum. "It is in this context that APEC's continued leadership is necessary. We need to focus on not just the challenges but also on the role that women are playing in dealing with the pandemic, their contributions and their role in the recovery."
Dr Sta Maria underlined the significance of trade in promoting gender equality and the need for member economies to focus on inclusive trade and investment policies so that "the policies facilitate unlocking otherwise untapped potential of women and girls in the region."
Gender and economic development ministers and senior officials agreed on a joint statement at the meeting, reflecting their views to advancing women's economic empowerment to strengthen post-pandemic economic recovery and resilience.
Read the APEC Women and the Economy Forum Statement
# # #
For further details, please contact:
Masyitha Baziad +65 9751 2146 at [email protected]
Michael Chapnick +65 9647 4847 at [email protected]
More on APEC meetings, events, projects and publications can be found on www.apec.org. You can also follow APEC on Twitter and join us on Facebook, LinkedIn.