Groundbreaking Research on Renewable Energy Wins APEC ASPIRE Prize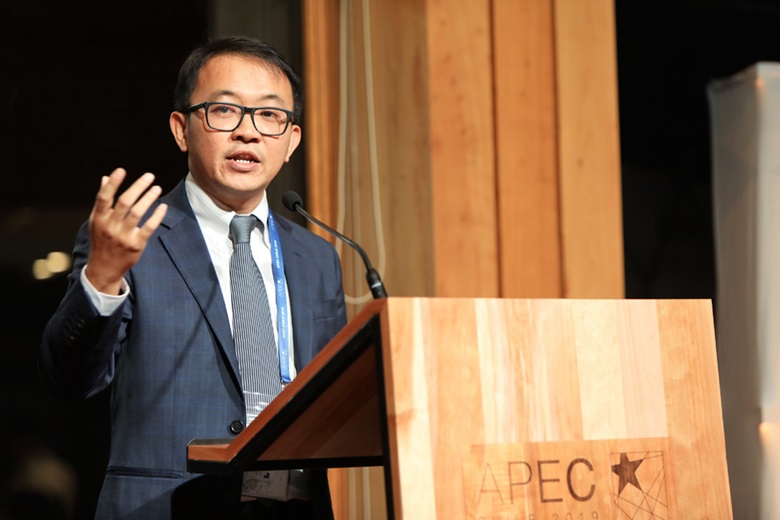 Groundbreaking work that may foster more use of renewable energy has been rewarded the 2019 APEC Science Prize for Innovation, Research, and Education, or ASPIRE.
Dr. Yun Hau Ng, whose innovation of using sunlight to split water into clean hydrogen and generate renewable energy exemplifies this year's theme of 'natural laboratories', will receive a USD 25,000 prize from Wiley and Elsevier, publishers of scholarly scientific knowledge.
The annual ASPIRE Prize recognizes young scientists from across the Pacific Rim region who are under 40 years of age, demonstrate excellence in scientific research, and international collaboration.
"The ASPIRE Prize is a good recognition and an even greater motivation as well for me and my team to work harder," said Dr. Ng, who was nominated by Hong Kong, China and is an associate professor at of the School of Energy and Environment at City University of Hong Kong. Dr. Ng also focuses on applications for solar batteries.
This year's theme Natural Laboratories inspired a myriad of outside-the-box ideas from 15 finalists, each nominated by one of the APEC member economies. Applications of their research include using satellite remote sensing and machine learning to monitor changes in coastal ecosystems, using crab shells to cleanse minerals from contaminated waters, and observing aquatic insects trying to adapt to global change in freshwater ecosystems.
"The natural world has inspired brilliance for millennia and will continue to inspire. As Dr. Ng's research shows, innovations arising from nature can offer the solutions needed for sustainable growth," said Andrés Couve, Chile's Minister for Science, Technology, Innovation and Knowledge.
"The ASPIRE Prize embodies not only innovation but also the collaborative spirit of APEC," said Dr. Fabiola Leon-Velarde Servetto, Chair of the APEC Policy Partnership for Science, Technology, and Innovation, which oversees the prize. "With cross-border collaboration, the work of these brilliant scientists promises to break even more ground," she added.
Now in its 9th year, the ASPIRE Prize supports APEC's goal towards regional economic integration, by helping to strengthen science and technology networks, enhance trade and investment opportunities through innovate research and development, and improve linkages between research and innovation.
"The ASPIRE Prize nominees symbolize what we can achieve for sustainable development if we marry creativity with academic rigor – and working across economies. Wiley will continue to support and nurture efforts to foster more sustainable growth," said Brian Napack, President and CEO of Wiley.
As each economy is allowed to nominate only one individual, some economies hold competitions to determine their nominee. Previous winners have been celebrated academics working on a range of important initiatives, from developing prediction models to forecast and track extreme weather, to developing low-cost sensors that detect food sanitation hazards.
"Every year, we are astounded by the resourcefulness of the scientists and their dedication to global development. It is an honor to support the ASPIRE Prize, " said YoungSuk "Y.S." Chi, Chairman of Elsevier.
For more information on the ASPIRE Prize, please visit here.
# # #
For further details, please contact:
Dini Sari Djalal +65 9137 3886 at [email protected]
Michael Chapnick +65 9647 4847 at [email protected]
More on APEC meetings, events, projects and publications can be found on www.apec.org. You can also follow APEC on Twitter and join us on Facebook, LinkedIn。