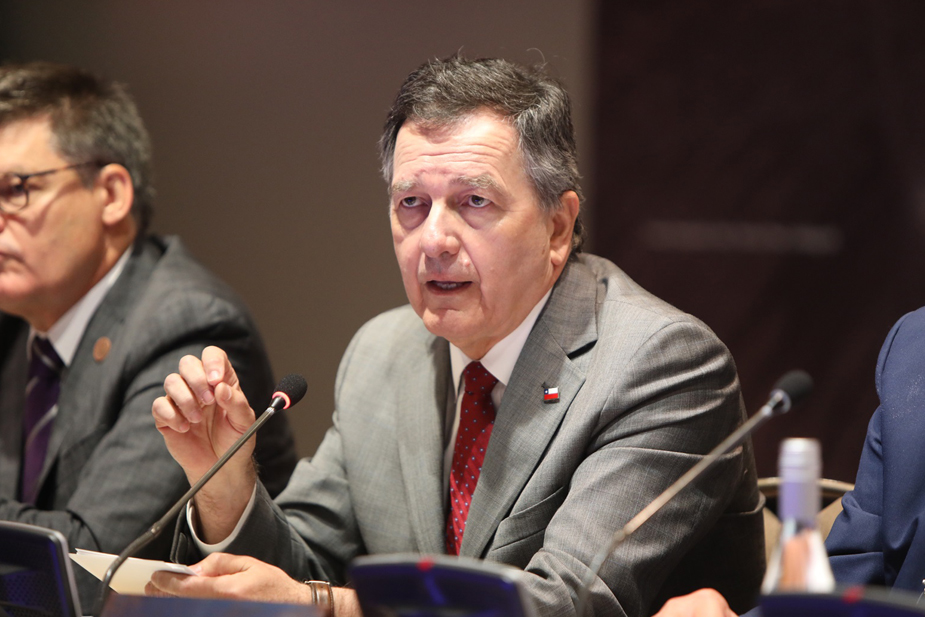 Ampuero: Multilateral Cooperation is Needed More than Ever
Santiago, Chile, 08 March 2019
Regional and global threats need multilateral responses that APEC can lead, urged Chile's Minister of Foreign Affairs Roberto Ampuero to a delegation of prominent individuals from government, business and academia charged with helping to shape the multilateral forum's post-2020 vision.
"The challenges that we face, such as stagnant growth, cyber attacks, natural disasters, terrorism, marine debris, and many others, are not nestled within the limits of our borders," explained Ampuero when the group met in Santiago, Chile – host economy for APEC 2019 – earlier this week. As the challenges often involve multiple economies or regions, "they require a global and multilateral response," he added.
The 21 economies of the Pacific Rim can build on its collaborative successes – such as supporting trade facilitation to advocating for lowering tariffs on environmental goods and leading more efficient travel for businesses in the region – in planning for the future, Ampuero said.
APEC's economic growth and trade trajectory have outpaced the rest of the world since 2008. The region's forecast of 3.9% growth remains rosier than the outlook for global growth, partly due to strong regional integration.
Chile, a regional leader in competitiveness and economic growth, exemplifies APEC's positive impact on members that harness the forum's potential. Chile built strong relationships with economies in Asia despite being 'relatively distant' in terms of location, and today, Ampuero explained, "we are now better off than we were 25 years ago, thanks in no small part to our trade related growth."
"APEC, and our firm support for the rules-based trading system, has been a fundamental pillar of our development, and it will continue to be so," said Ampuero. This year marks the 30th anniversary of the forum.
Ampuero described APEC's goal of free and open trade and investment as "only a means to an end," with "balanced and equitable economic growth" as the end goal.
To achieve this goal, strengthen fora that encourage collaboration. "We should fight against the concerning trends that are countering multilateralism precisely at a time when multilateral cooperation is needed more than ever," he said.
This week's gathering at the foot of the Andes is the first in a year of meetings to be held around this dynamic South American economy, culminating in the APEC Economic Leaders' Meeting in November, to be held also in Santiago.
For more:
The complete APEC SOM1 and Related Meetings schedule in Santiago from 23 February to 8 March can be viewed here.
# # #
For further details, please contact:
Dini Sari Djalal +65 9137 3886 at [email protected]
Michael Chapnick (in Santiago) +65 9647 4847 at [email protected]
More on APEC meetings, events, projects and publications can be found on www.apec.org. You can also follow APEC on Twitter and join us on Facebook, LinkedIn and Instagram.