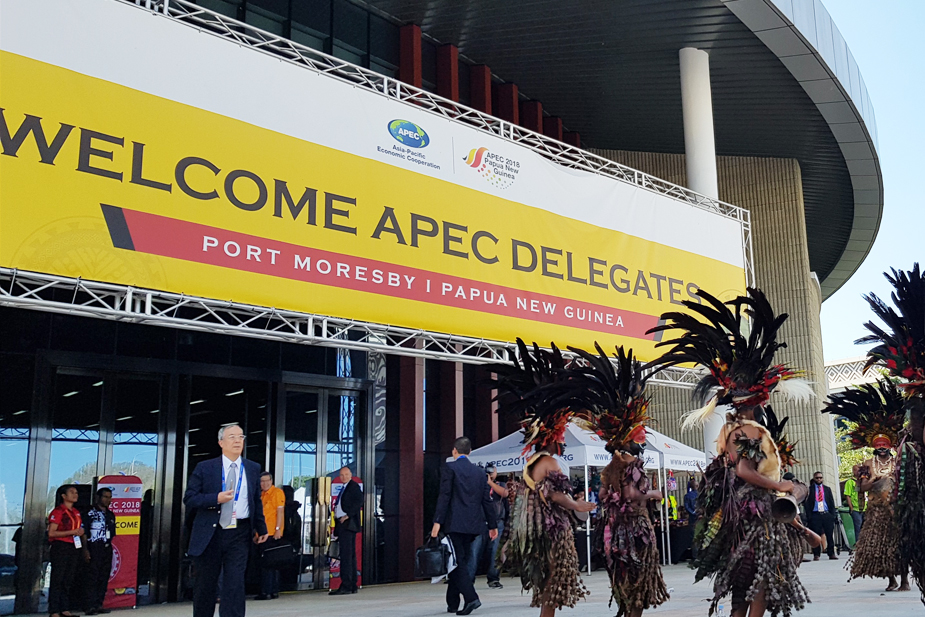 APEC Leaders Seek Trade, Digital Breakthroughs in Port Moresby
Port Moresby, Papua New Guinea, 12 November 2018
The leaders, ministers and officials of the APEC member economies are convening this week in Port Moresby. Their urgent task is to ensure Asia-Pacific trade and digital development, and keep rising uncertainty in the global economy in check.
Under the theme "Harnessing Inclusive Opportunities, Embracing the Digital Future," APEC Leaders will meet on 18 November to build common ground towards advancing regional economic integration and connectivity, digital entrepreneurship and market access for businesses of all sizes, and an empowered, inclusive and disruption-ready workforce.
The aim is provide greater policy direction in APEC for delivering trade that harnesses new, technologically-driven growth drivers, sparks business innovation and employment, and brings better quality of life to people in all areas of the region. The outlook for half of global trade, 60 per cent of world GDP and broader prosperity could be lifted significantly.
The APEC Economic Leaders' Meeting will be informed by policy dialogue with the APEC Business Advisory Council on 17 November and exchanges of views with the region's private sector heads at the APEC CEO Summit on 15-17 November. APEC Leaders will also consider inputs shared during an informal meeting with Pacific Island Leaders on 17 November.
The tone for policy progress will be supported by decisions reached at the APEC Ministerial Meeting on 15 November as well as the new technical initiatives for strengthening next generation trade, investment and sustainable and inclusive growth developed by APEC Senior Officials on 12-13 November.
"Papua New Guinea is an important place for APEC to address the next steps for the digital economy because the challenges of embracing technology are real," explained Ambassador Ivan Pomaleu, 2018 Chair of APEC Senior Officials. "We have to work out accessibility issues, how to improve affordability and how to make digital innovation within our economies more efficient and sustainable over the long haul."
"Structural reform, for instance, should feature in our connectivity and infrastructure development efforts, and in our education and human resource discussions when we look at how populations can embrace technologies going forward and make it work," Ambassador Pomaleu continued. "Our actions need to mean something to the people. This includes the moms and dads, and the people in the tiny villages across Papua New Guinea."
WATCH: APEC Papua New Guinea 2018 Priorities Explained
WATCH: APEC Promotes Tourism and Jobs in Papua New Guinea
The launch of the latest APEC Regional Trends Analysis on 14 November will help to shape policy engagement and provide recommendations for improving digital productivity in the changing trade and economic landscape.
"We will be looking at impediments to continued free, open and, increasingly, fair trade as well," noted Dr Alan Bollard, Executive Director of the APEC Secretariat. "Our big expectation and hope is that we see broad support to keep the whole region moving on regional economic integration despite quite big concerns about some of the effects of anti-globalization."
"The challenges we are seeing in trade right now are quite specific and can be defined quite closely whereas the benefits of globalization have been huge," Dr Bollard added. "Everyone at the APEC table wants to bring more trade benefits home and opening up the digital economy is a key part of the process," he concluded. "We want to see policy breakthroughs that can help move things ahead even in these difficult times."
WATCH: Previewing APEC Economic Leaders' Week
# # #
For further details, or to arrange possible interviews, please contact:
David Hendrickson at mobile/WhatsApp +65 9137 3886 or [email protected]
Michael Chapnick (in Port Moresby) at mobile/WhatsApp +65 9647 4847 or [email protected]
More on APEC meetings, events, projects and publications can be found on www.apec.org. You can also follow APEC on Twitter and join us on Facebook, LinkedIn and Instagram.