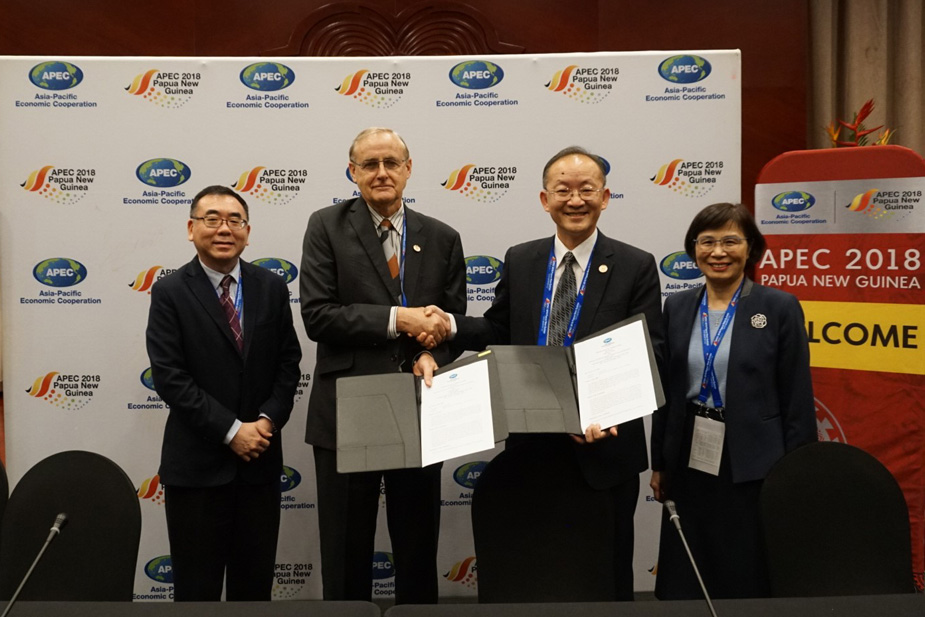 Chinese Taipei Raises Contribution to Regional Integration
Port Moresby, Papua New Guinea, 11 November 2018
Chinese Taipei has voluntarily donated USD 700,000 in funding for project work in APEC to ensure regional economic integration and trade, and sustainable growth.
The donation was confirmed in a Memorandum of Understanding signed by Loong-jin Chen, Chinese Taipei's APEC Senior Official, and Dr Alan Bollard, Executive Director of the APEC Secretariat, on the eve of the APEC Economic Leaders' Week in Port Moresby.
"Chinese Taipei is committed to the continued advancement of market integration and trade in the APEC region," said Chen. "Chinese Taipei is more than glad to see that the fund donation will be utilized for serving the purpose of tapping digital opportunities and building inclusive, resilient economies."
"This donation adds to Chinese Taipei's support for policy development and implementation projects in APEC," he continued. "Through greater collaboration, we seek to harness innovation in ways that can empower people and businesses to thrive in the fast-changing world."
APEC provides funding for around 100 projects annually, with more than USD 16 million available in 2017.
Examples include technical exchanges, training and research that help APEC economies adopt new integration initiatives, tackle complex behind-the-border bottlenecks to trade, improve connectivity and open up participation in the digital marketplace.
"We appreciate this support for capacity building initiatives in APEC which have taken on even greater significance as a mechanism for keeping trade and investment in the Asia-Pacific moving," said Dr Bollard.
"This donation will widen openings to address new challenges – from easing trade barriers in the digital economy to channeling technology to enable startups and climate change resilience," he concluded. "Further progress in areas like these could bring a high return-on-investment."
# # #
For further details, or to arrange possible media interviews, please contact:
David Hendrickson at mobile/WhatsApp +65 9137 3886 or [email protected]
Michael Chapnick (in Port Moresby) at mobile/WhatsApp +65 9647 4847 or [email protected]
More on APEC meetings, events, projects and publications can be found on www.apec.org. You can also follow APEC on Twitter and join us on Facebook, LinkedIn and Instagram.