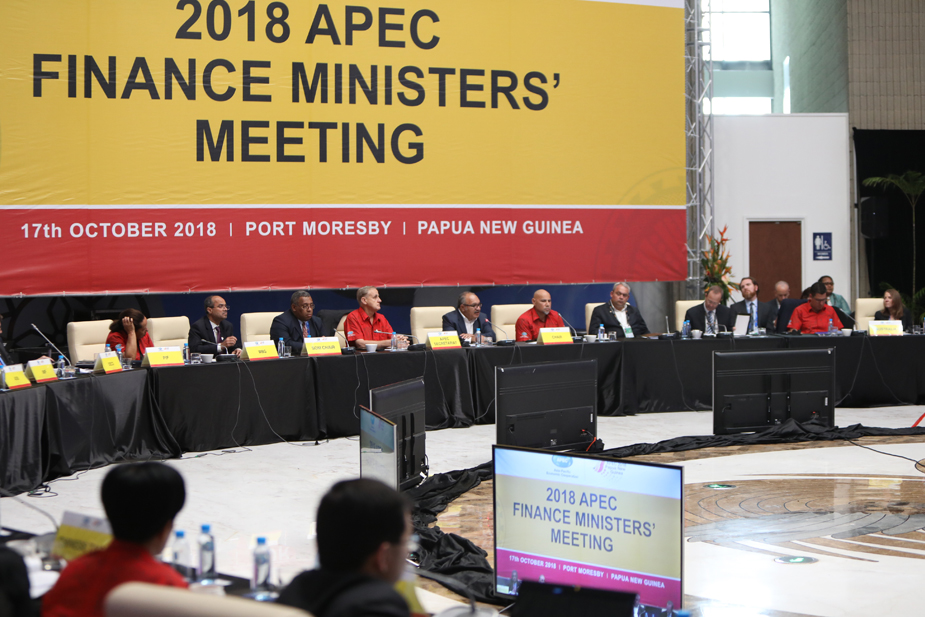 APEC Finance Ministers Issue Joint Statement
Port Moresby, Papua New Guinea, 17 October 2018
Finance Ministers from the APEC member economies issued a joint statement reflecting the outcomes of the APEC Finance Ministers' Meeting in Port Moresby chaired by Papua New Guinea Deputy Prime Minister and Treasurer Charles Abel.
Their joint statement discusses the economic and financial outlook that APEC economies face and shares finance ministers' views on appropriate policy actions.
Areas of focus include:
Accelerating infrastructure development and financing;

Advancing financial inclusion;

Fostering international tax cooperation and transparency;

Implementing the Cebu Action Plan for building a financially integrated, transparent, resilient and connected APEC community; and

Addressing disaster risk financing and insurance.
View the APEC Finance Ministers' Joint Statement
The next APEC Finance Ministers' Meeting will be held in Santiago, Chile in October 2019.
# # #
For further details, or to arrange possible media interviews, please contact:
David Hendrickson (in Port Moresby) by mobile/WhatsApp at +65 9137 3886 or [email protected]
Michael Chapnick by mobile/WhatsApp at +65 9647 4847 or [email protected]
More on APEC meetings, events, projects and publications can be found on www.apec.org. You can also follow APEC on Twitter and join us on Facebook, LinkedIn and Instagram.