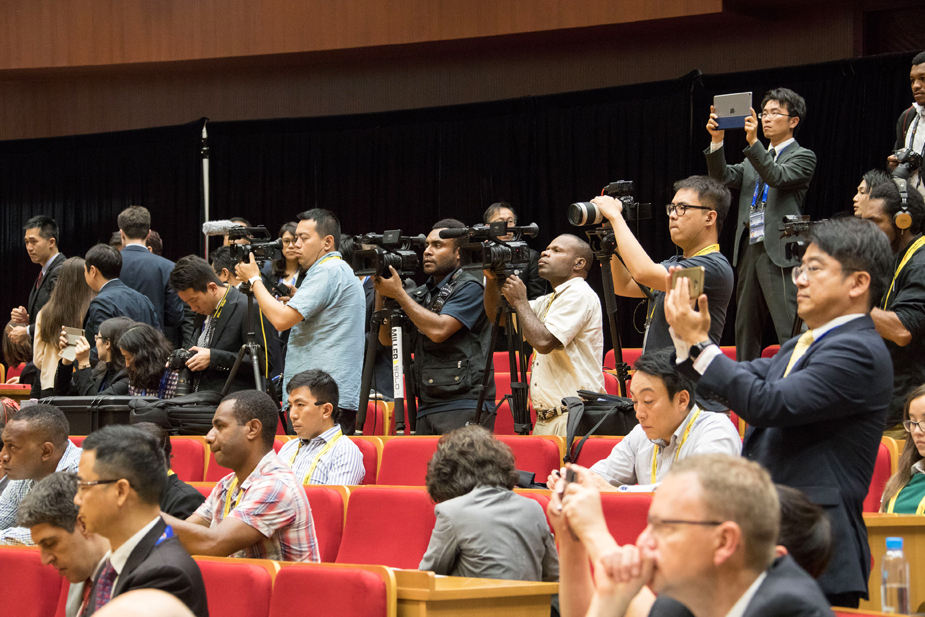 Media Registration Open for Finance Ministers' Meeting
Port Moresby, Papua New Guinea, 20 September 2018
Media registration is open for the APEC Finance Ministers' Meeting and Related Meetings to take place on 15-17 October in Port Moresby.
Agenda:
Finance Ministers will assess unfolding economic and financial risks as well as policy responses to ensure Asia-Pacific trade and growth. The APEC member economies they represent account for half of global trade and 60 per cent of world GDP.
Structural challenges facing the region's economies will be a priority. Areas of focus will include accelerating infrastructure development and financing; advancing financial inclusion; fostering international tax cooperation and transparency; and disaster risk financing and insurance.
When:
APEC FINANCE MINISTERS' MEETING (FMM): 17 OCTOBER 2018

APEC FINANCE MINISTERS' RETREAT: 16 OCTOBER 2018

APEC Finance and Central Bank Deputies' Meeting (FCBDM): 16 October 2018

APEC Senior Finance Officials' Meeting (SFOM): 15 October 2018
Where: International Convention Centre, Port Moresby
DEADLINE FOR ONLINE MEDIA REGISTRATION: FRIDAY, 12 OCTOBER 2018
Online registration links:
International media representatives
Domestic media representatives
Identification badges will be issued to all accredited media representatives and required for entry.
Media events:
Introductory remarks during FMM, the "family photo" of Finance Ministers and a post-meeting news conference will be open to accredited journalists.
Introductory remarks during related meetings will also be open to accredited journalists. Interview and photo opportunities will be available in conjunction with FMM and related meetings.
Media registration and accreditation contacts:
Mr Russell Saigomi
Senior Media and Communications Manager,
APEC 2018 Papua New Guinea Coordination Authority
Tel: +675 766 30062
[email protected]
Ms Priscilla Raepom
Media Engagement Manager
APEC 2018 Papua New Guinea Coordination Authority
Tel: +675 7627 1203 | +675 78226345 | +675 71657689
[email protected]
# # #
For further details, please contact:
David Hendrickson +65 9137 3886 at [email protected]
Michael Chapnick +65 9647 4847 at [email protected]
More on APEC meetings, events, projects and publications can be found on www.apec.org. You can also follow APEC on Twitter and join us on Facebook, LinkedIn and Instagram.