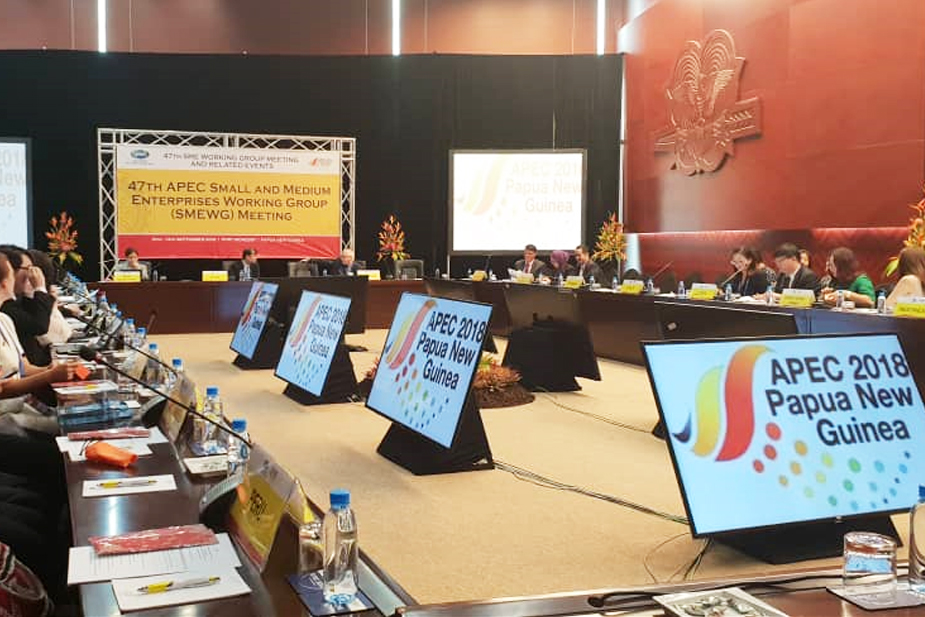 APEC Builds Disruption-Ready Small Business Trade
Port Moresby, Papua New Guinea, 17 September 2018
Officials from the APEC member economies are breaking new ground in their support for small business development in the Asia-Pacific, seeking to ensure balanced trade growth and job creation as disruptions across the regional landscape intensify.
Measures in APEC to help small and micro enterprises accounting for 97 per cent of all firms in the region capitalize on changing technologies and consumption habits, and mitigate against escalating market risks, were advanced by officials during policy consultations over the past week in Port Moresby.
"We are working with our partners in APEC to empower businesses on the small end of the scale to compete in the new economy, both in good times and when faced with challenges like we are seeing in the trading landscape now," explained Papua New Guinea's Minister for National Planning and Monitoring Richard Maru.
"With cheaper and more accessible mobile technology, even village and roadside enterprises from the informal sector have a golden opportunity to develop and do business in new markets, including in other APEC economies where consumer demand is rising," Minister Maru added.
"Our policy efforts in APEC to encourage small and micro enterprise innovation are especially important for commodity dependent economies like Papua New Guinea, helping us diversify our GDP growth and safeguard jobs from boom and bust cycles."
Officials are focused on promoting business development in emerging sectors. Examples include APEC project work initiated in Thailand to boost awareness of eco-tourism opportunities within local communities, capacity building guidance and business friendly environments cultivated via financial and non-financial incentives.
Renewable energy, green building, food production and garment and textiles are sectors that are also being targeted under the initiative.
Complementary measures being taken forward by APEC officials aim to better position entrepreneurs and small firms to innovate, with emphasis on enhancing IT adoption, online business model mentoring, investor engagement and access to digital financing channels.
Officials are moreover spurring small businesses to seek foreign markets through efforts to help them utilize free trade agreements, adopt codes of business ethics in the high-growth healthcare and construction industries, and uphold their operations and supply chains during emergencies like earthquakes and extreme weather due to climate change.
"We are pursuing an ambitious and strategic small business modernization agenda in APEC that reflects a common recognition that the future of trade, growth and jobs hinge on the resilience of such firms in changing times," said Nguyen Hoa Cuong, Chair of the APEC Small and Medium Enterprise Working Group, which administers policy collaboration within the sector.
"This work will take time to implement and come into effect at a grassroots level on a scale that broadly impacts our economies. But the positive difference it can make for people's lives and livelihoods all around the APEC region makes it a real policy imperative," Nguyen concluded.
# # #
For further details, please contact:
David Hendrickson +65 9137 3886 at [email protected]
Michael Chapnick +65 9647 4847 at [email protected]
More on APEC meetings, events, projects and publications can be found on www.apec.org. You can also follow APEC on Twitter and join us on Facebook, LinkedIn and Instagram.