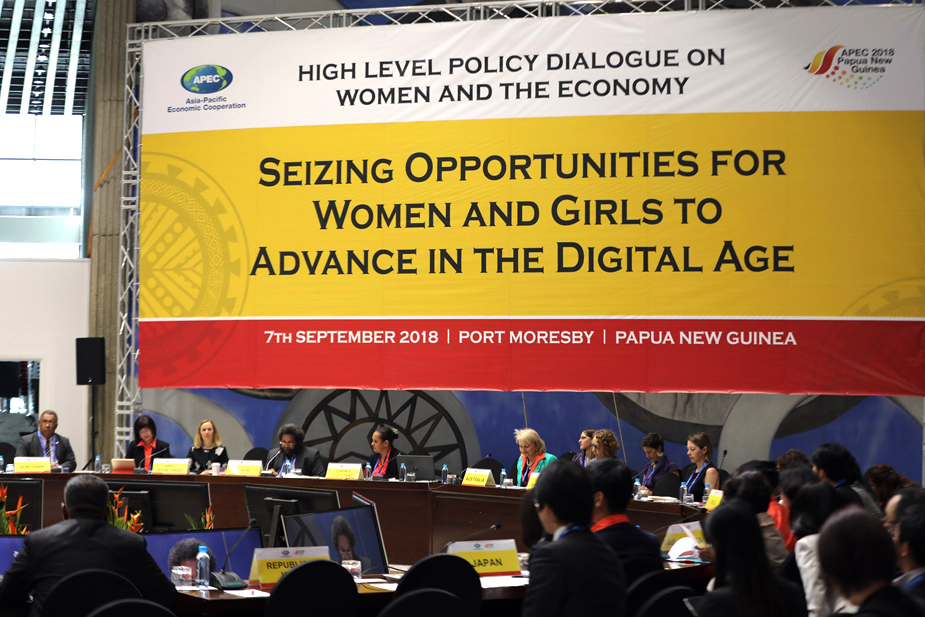 Women's Economic Empowerment Gets Digital Boost
Port Moresby, Papua New Guinea, 10 September 2018
Gender and economic development officials from the APEC member economies have agreed to a new plan for accelerating women-led business and trade growth in the digital economy.
Improving equal access and use of innovative technologies is at the heart of measures to be advanced in APEC to promote gender balanced entrepreneurship and market opportunities, outlined in a statement issued by officials convened in Port Moresby over the past week for the APEC Women and the Economy Forum.
View the APEC Women and the Economy Forum Statement
"Papua New Guinea and its partners in the APEC region are committed to enabling the full potential of women in the digital landscape to ensure the growth of our economies and that nobody gets left behind," explained Papua New Guinea Community Development Minister Soroi Eoe, 2018 Chair of the APEC Women and the Economy Forum.
"Through greater investment and capacity building in APEC in digital literacy and skills development, we seek to narrow employment gaps and create an environment in which everyone can thrive in the regional marketplace," Minister Eoe continued. "Our urban and rural communities could benefit much from women-led entrepreneurship in the digital economy."
Under their new APEC plan, officials will take forward measures to make it easier for women in all areas of the region to start and run businesses using digital tools, ensure full, non-discriminatory education and skills training, and broaden access to finance and markets.
The aim is to promote women's economic empowerment as a catalyst for growth in all sectors, boosting employment and wages for all as labor needs change in the APEC region while meeting increasing demand for services ranging from food processing to healthcare to transportation and tourism.
This agenda is supported by projects in APEC that both address industry-specific challenges for women's participation in the workforce and open up leadership opportunities in emerging, technology-driven sectors. Examples include renewable energy management training, professional exchanges and peer-to-peer mentoring on business plan development.
"We have established ambitious goals for unlocking the potential of both halves of our workforce in the region and are committed to deepening engagement with the private sector to make them a reality for the digital age," said Fredrick Tamarua, Chair of the APEC Policy Partnership on Women and the Economy, which administers gender policy collaboration in the region.
"Strengthening data under the APEC Women and the Economy Dashboard will guide our policy next steps," Tamarua added. "A big focus for us is also educating and encouraging men across our economies to champion gender equality. Progress in modernizing our social conventions would be a major breakthrough benefiting all of us," he concluded.
Watch: How APEC is Using Data to Enhance Women's Empowerment
# # #
For further details, please contact:
David Hendrickson +65 9137 3886 at [email protected]
Michael Chapnick +65 9647 4847 at [email protected]
More on APEC meetings, events, projects and publications can be found on www.apec.org. You can also follow APEC on Twitter and join us on Facebook, LinkedIn and Instagram.