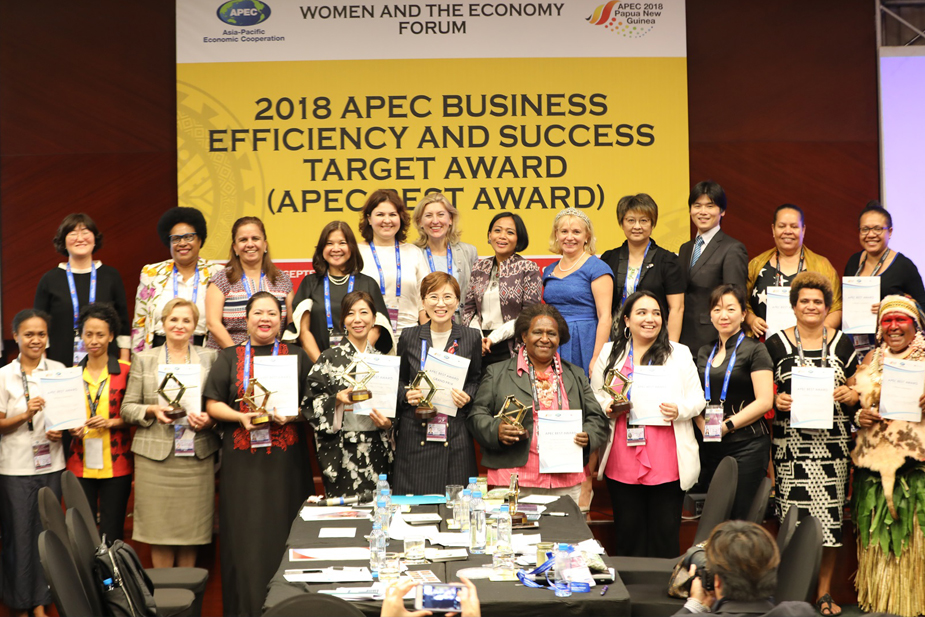 Super Mom Champion Named Top Woman Entrepreneur
Port Moresby, Papua New Guinea, 07 September 2018
The founder of a startup in Korea that guides skilled unemployed mothers back to the workplace, tackling gender barriers and aging labor force challenges, has been named the Asia-Pacific's most outstanding woman entrepreneur for 2018.
Miran Kim, a former stay-at-home mom who created the firm Comma and Exclamation Mark to "reduce social costs, reuse human resources and recycle careers," is this year's winner of the APEC Business Efficiency and Success Target Award. Kim was selected out of a field of 12 finalists after they presented their business models to a panel of public and private sector experts from the region.
The initiative, known as the BEST Award program and overseen by Russia, was conducted as part of the APEC Women and the Economy Forum in Port Moresby to boost women's entrepreneurship and inclusive growth in the Asia-Pacific.
Watch: APEC's Top Woman Entrepreneur on Her Path to Success
Meet all the 2018 APEC BEST Award program winners
"After I gave birth to my son, it was very hard to restart my career, despite my experience and credentials. The consulting company I built with seven other stay-at-home moms – and MBA alumni – helps women who discontinued working due to childbirth and childcare issues re-enter the workplace," explained Kim, who launched her business in Daegu, Korea's third largest city, in 2015.
"We encourage and empower mothers through workshops and training that mentor them on re-employment as well as provide counsel on start-up opportunities. The women that we work with come from diverse professional backgrounds and are highly educated, meaning they still have much to offer to employers," Kim continued.
Kim received her MBA from Kyungpook National University, has a PhD in engineering from Keimyung Univerity and is the author of several books on the future of entrepreneurship, start-ups and digital knowledge. She developed her business model in recognition of socioeconomic losses due to involuntary female unemployment stemming from child rearing obligations.
"In Korea, as in other economies like China and Japan, our population is aging and birth rates are declining. When educated women don't work, the economic and social costs are increasingly significant," noted Kim.
"How to bring mothers back to the workforce is an emerging problem all across the APEC region. Our business is directly addressing this challenge."
Nominated by their respective APEC member economies, the candidates for the BEST Award have each owned and/or managed local small businesses for two to seven years. They were assessed based on their business model's innovation, replication capacity, growth potential, foreign market prospects and ability to create jobs and social benefits.
Awards for each of these categories were also presented as part of the BEST program, held for the third time in conjunction with the APEC Women and the Economy Forum in 2018.
Watch: Promoting Women Entrepreneurship Through the BEST Program
"The BEST program offers business promotion, networking, consulting and mentoring support to the growing number of outstanding women entrepreneurs in the APEC region," said Natalia Strigunova of Russia's Ministry of Economic Development, which initiated the BEST Award with OPORA—Russia's non-governmental organization for small and medium business.
"The rise of the digital economy and new, gender inclusive opportunities it creates for entrepreneurship, means that our work in APEC to enable women-led business growth will only become more critical," added Strigunova. "Many of our BEST nominees already run quite tech-savvy operations. The possibilities for women's economic empowerment are very exciting."
# # #
For further details, please contact:
David Hendrickson +65 9137 3886 at [email protected]
Michael Chapnick +65 9647 4847 at [email protected]
More on APEC meetings, events, projects and publications can be found on www.apec.org. You can also follow APEC on Twitter and join us on Facebook, LinkedIn and Instagram.