Life-Saving Health Tech Disruptor Named Top Asia-Pacific Innovator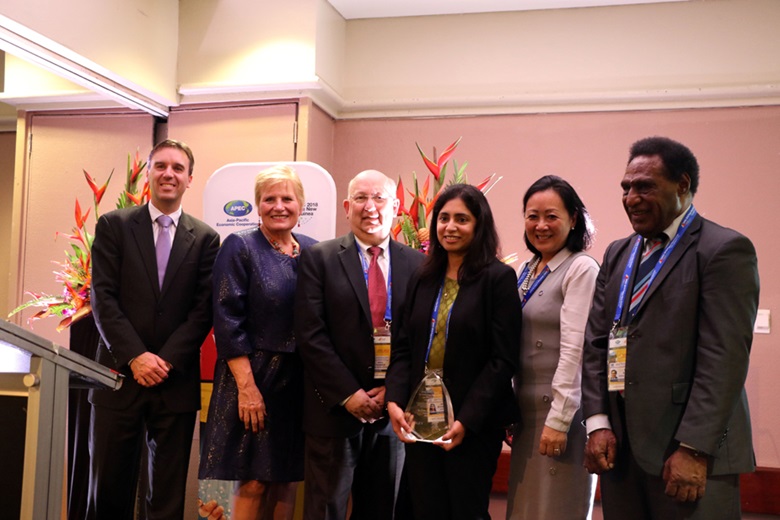 A revolutionary electronic materials engineer from Australia has been awarded the 2018 APEC Science Prize for Innovation, Research and Education for opening up new ways of detecting health threats.
An Associate Professor at the Royal Melbourne Institute of Technology, Dr Madhu Bhaskaran, was named the region's top early career researcher for her development of wearable elastic electronics and sensors.
Examples include the introduction of stretchable, optically transparent and ultra-thin devices that can alert a user to dangerous levels of UV ray exposure and help to prevent skin cancer, breakthroughs enabled by Dr Bhaskaran's cross-border research in the APEC region.
Dr Bhaskaran was selected from a group of 13 finalists, each nominated by one of the APEC member economies under the 2018 ASPIRE Prize theme Smart Technologies for Healthy Societies. Nominees, all under 40 years of age, were considered based on their commitment to both excellence in scientific research as evidenced by scholarly publication and cooperation with scientists from other APEC economies.
The ASPIRE Prize winner was announced by science, technology and innovation officials from the APEC member economies, at their policy development meetings in Port Moresby to enable greater intra-regional research and trade.
"Dr Bhaskaran's research shows what's possible when minds work together. It also underscores the importance of APEC work to seed new breakthroughs that can improve people's lives in all areas of the region," explained Hon. Pila Niningi, Papua New Guinea's Minister for Higher Education, Research, Science and Technology.
"The electronic materials created by Dr Bhaskaran will promote healthier and more productive Asia-Pacific communities," added Christin Kjelland, Chair of the APEC Policy Partnership on Science, Technology and Innovation and an official with the United States State Department. "One of APEC's aims is to help advance ground-breaking innovation through regional collaboration."
For her achievement, Dr Bhaskaran was awarded a prize of USD 25,000, supported by publishers of scholarly scientific knowledge, Wiley and Elsevier.
"Dr Bhaskaran's work changes the way we interact with electronic devices and sensors to address health challenges. We celebrate her achievements in developing life-saving applications that will broadly impact the region and the world," said Brian Napack, President and CEO, Wiley.
"This prize recognizes outstanding young scientists in APEC economies who inspire future generations to produce innovative research," said Youngsuk "Y.S." Chi, Chairman of Elsevier. "We are proud to honor Dr Bhaskaran's impactful and highly collaborative work in developing smart technology for healthy societies."
# # #
For further details, or to arrange possible media interviews, please contact:
David Hendrickson (in Port Moresby) at +65 9137 3886 [email protected]
Michael Chapnick (in Port Moresby) at +65 9647 4847 [email protected]
More on APEC meetings, events, projects and publications can be found on www.apec.org. You can also follow APEC on Twitter and join us on Facebook, LinkedIn and Instagram.