13 Health Tech Innovators Changing the World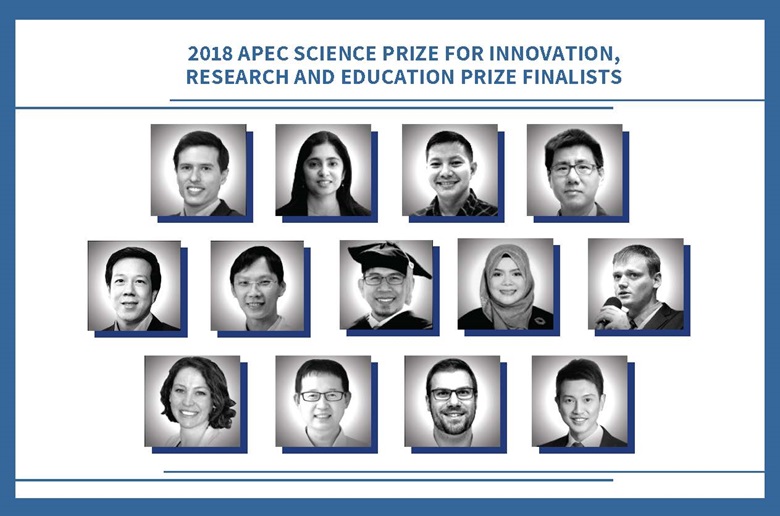 Thirteen early career scientists from across the Asia-Pacific who are revolutionizing healthcare technology have been named finalists for the 2018 APEC Science Prize for Innovation, Research and Education.
From new preventative treatments to enhanced threat detection to rapid recovery solutions, the cross-border research breakthroughs developed by these innovators under 40 years of age were recognized in accordance with this year's ASPIRE Prize theme: Smart Technologies for Healthy Societies.
The winner will be announced by science and technology officials and industry representatives from the APEC Policy Partnership on Science, Innovation and Technology when they convene in Port Moresby in August. The winner will also receive USD 25,000 in prize money sponsored by Wiley and Elsevier, publishers of scholarly scientific knowledge.
Meet the 2018 ASPIRE Prize Finalists:
Australia
Dr Madhu Bhaskaran
Associate Professor, RMIT University, Melbourne, Australia
Field of research: Electronic materials engineering

Dr Bhaskaran's work transforms the way we imagine, use and interact with electronic devices and sensors. She has developed ways to combine functional oxide materials processed at high temperatures with elastic and plastic materials. Her work has led to the development of wearable elastic electronics and sensors including gas and UV sensors and flat optical devices—all of which are stretchable, optically transparent and as thin as a nicotine patch. An example of an application includes the development of devices to detect amount of exposure to UV rays which contribute to skin cancer.




Canada
Dr Daniel Fuller
Assistant Professor and Canada Research Chair in Population Physical Activity, Memorial University of Newfoundland
Field of research: Human kinetics and public health

Dr Fuller's research involves designing healthier cities by using mobile health technologies like wearable devices, mobile phones, machine learning and geographic information science to increase physical activity. He works closely with cities and local community organizations to evaluate the impact of existing interventions such as bicycle share programs, bridge construction and snow clearing on physical activity.




Chile
Dr Pablo González Muñoz
Assistant Professor, Pontificia Universidad Catolica De Chile
Field of research: Host-pathogen interactions, human viruses, immunology, microbiology and immune evasion

Dr González studies the virus herpes simplex-2 (HSV-2), a virus that currently affects about 500 million people for which a vaccine is not available. Dr González has worked with at least five human pathogens. Through his research, he has developed a fast, affordable and easy-to-use diagnostic kit to detect viral infections for different tissues that can be used in rural areas.




China
Dr Liu Guanghui
Professor, Institute of Biophysics, Chinese Academy of Sciences
Field of research: Stem cells and healthy aging

Dr Liu researches aging, organ and tissue homeostasis, and aging-associated diseases. Through his work, he has discovered therapeutic interventions to allow for the "healthy aging" of human stem cells. Dr Liu's work continues to enhance the study and treatment of disorders related to aging.




Indonesia
Dr Chairul Hudaya
Assistant Professor, University of Indonesia
Field of research: Electrical power and energy materials

Dr Hudaya researches affordable smart energy storage technology for healthy societies, especially those living in remote and isolated areas. His two main projects include: 1) a portable energy storage device used with an infant incubator, serving premature infants; and 2) a smart monitoring system installed in a laptop enabling nurses to communicate in remote, off-grid areas.




Korea
Dr Choongik Kim
Associate Professor, Sogang University
Field of research: Wearable/flexible electronics, organic/polymeric materials, semiconductors

Dr Kim researches and develops novel electric materials for use in wearable devices, including activity monitoring bracelets, smart watches and GPS enabled shoes. In 2007, as published in Science, he was the first to expand upon the relationship between electric materials and electronic device performance. Dr Kim's research is used to develop the core technology for new wearable technologies, leading to more real-time applications that can support meaningful improvements in health outcomes.




Malaysia
Dr Siti Hamidah Mohd Setapar
Associate Professor, Universiti Teknologi Malaysia
Field of research: Micellar nanotechnology, extraction of national products, product development from natural ingredients, cosmetic formulation and separation processes

Dr Mohd Setapar's research focuses on micellar nanotechnology, a cutting-edge technology used in skincare and cosmetics to improve the effectiveness of the skin cleansing process and enhance the absorption capacity of cosmetic ingredients into the skin. She has commercialized a range of cosmetic and skincare products through her university spin-off company. Dr Mohd Setapar's mission is to empower Malaysian women with safer, high-quality cosmetic products and to make available high-value cosmetics combining micellar nanotechnology with local natural extracts at lower prices.




The Philippines
Dr Mario Antonio Jiz II
Research Institute for Tropical Medicine
Field of research: Immunology

Dr Jiz researches schistosomiasis, a disease caused by parasitic worms that is second only to malaria as the most devastating parasitic disease. Dr Jiz develops vaccines for schistosomiasis and has patented a large scale production of a solution for the body to induce immunity against the disease.




Russia
Dr Vladislav Voitenkov
Ministry of Economic Development of the Russian Federation
Field of research: Clinical neurophysiology, infections of the nervous system, encephalitis, meningitis, myelitis and inflammatory polyneuropathy (Guillain-Barré syndrome)

Dr Voitenkov's work focuses on understanding neurology and functional diagnostics, especially in the aging process. He studies the rare disease, inflammatory polyneuropathy (Guillain-Barré syndrome), where the body's immune system attacks your nerves, paralyzing a person's entire body.




Singapore
Dr Daniel Shu Wei Ting
Assistant Professor, Duke-NUS Medical School, NUS
Field of research: Artificial intelligence using deep learning in screening for diabetes eye screening

Dr Daniel Shu Wei Ting's work focuses on screening techniques for diabetic retinopathy, an eye disease for people with diabetes, which can lead to loss of vision. He has led a large research team in building the world's first artificial intelligence system using deep learning to detect three potentially blinding conditions.




Chinese Taipei
Dr Ming-Kai Pan
Physician Principle Investigator, NTUH
Field of research: Neurology—movement disorders

Dr Pan specializes in human physiology and mouse models of neurological disorders. His work is focused on discovering novel ways to measure brain physiology for movements which have implications for Parkinson's disease, essential tremors and cerebellar ataxic disorders. Dr Pan has also invented smart technology to identify the most common movement disorders affecting 20 per cent of the elderly population.




Thailand
Dr Wanpracha Art Chaovalitwongse
Professor, University of Arkansas, Fayetteville
Field of research: Data analytics, machine learning, artificial intelligence, health informatics, medical imaging analysis and medical decision making

Dr Chaovalitwongse's research focuses on data analytics in medical and healthcare applications, especially in analyzing brain activity to predict and monitor epilepsy. Through his work, he has developed solutions for problems caused by attention deficit/hyperactivity disorder, Alzheimer's disease, Parkinson's disease, non-small cell lung cancer, sarcoma and esophageal cancer.




United States
Dr Kara Spiller
Assistant Professor, Drexel University
Field of research: Biomedical engineering

Dr Spiller focuses her research on the design of "smart" biomaterials that can control the behavior of immune cells to promote tissue repair and wound healing. She has developed a point-of-care diagnostic to tailor optimal treatment for patients based on the state of their immune system according to factors such as age, genetics and nutrition.
# # #
For further details, please contact:
David Hendrickson +65 9137 3886 at [email protected]
Michael Chapnick +65 9647 4847 at [email protected]
More on APEC meetings, events, projects and publications can be found on www.apec.org. You can also follow APEC on Twitter and join us on Facebook, LinkedIn and Instagram.