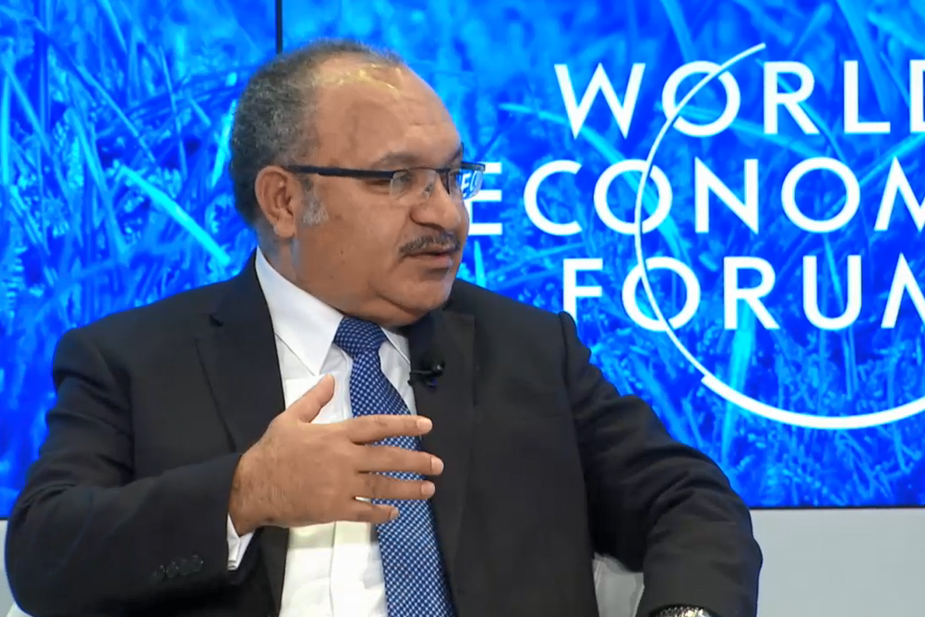 Prime Minister Peter O'Neill, speaking at the World Economic Forum in Davos, Switzerland, set the stage for APEC to take greater action to fight climate change when Papua New Guinea hosts its first trade policy meetings as APEC Chair in 2018 next month.
Prime Minister O'Neill described the urgent need to do more to confront climate change in the Asia-Pacific and the role that cooperation between APEC member economies should play to take things forward.
"Dealing with environmental risks is one of the most critical issues for Pacific and APEC economies. Extreme weather, including droughts and tropical storms, are killing our people and destroying livelihoods, so positive action must be taken in the global community," Prime Minister O'Neill explained.
Prime Minister O'Neill, the first Papua New Guinea leader to address the annual gathering of private sector and political influencers in Davos, pointed to the importance of boosting access to capital and investment for the success of climate resilient development and infrastructure projects.
These range from new roads, ports and airports to next generation power and digital networks needed to ensure connectivity between APEC economies and jobs, sustainable business growth and improvements in living standards that depend on these relationships in the increasingly globalized economy.
"As the cost of renewable energy comes down, more and more consumers will opt for it. Around some remote communities in my own country, they are converting to solar energy at a very fast rate," said Prime Minister O'Neill.
"Our mobile users increased from 200,000 to over a million in one year as new network infrastructure was made available," Prime Minister O'Neill added. He pointed out that such progress supports the harnessing of digital innovations that can help to raise energy efficiency.
Prime Minister O'Neill noted the value of working together in APEC to both ensure open markets that lower prices of new technologies for consumers and deliver climate conscious reforms.
"Governments need to set up policies that better position the private sector to act in a manner that is socially responsible, environmentally friendly and, of course, promotes good governance," Prime Minister O'Neill said.
"You look at it now, the debates and discussions and conversations that are happening all around the world—it's encouraging," he concluded.
Trade and sectoral officials from APEC economies will aim to build on these and complementary trade and investment measures when they meet in Papua New Guinea's capital, Port Moresby, beginning on 24 February.
The consultations will continue with the First APEC Senior Officials' Meeting on 8-9 March and culminate when Prime Minister O'Neill hosts the APEC Economic Leaders' Meeting in Port Moresby in November.
# # #
For further details, please contact:
David Hendrickson +65 9137 3886 at drh@apec.org
Michael Chapnick +65 9647 4847 at mc@apec.org
More on APEC meetings, events, projects and publications can be found on www.apec.org. You can also follow APEC on Twitter and join us on Facebook, LinkedIn and Instagram.