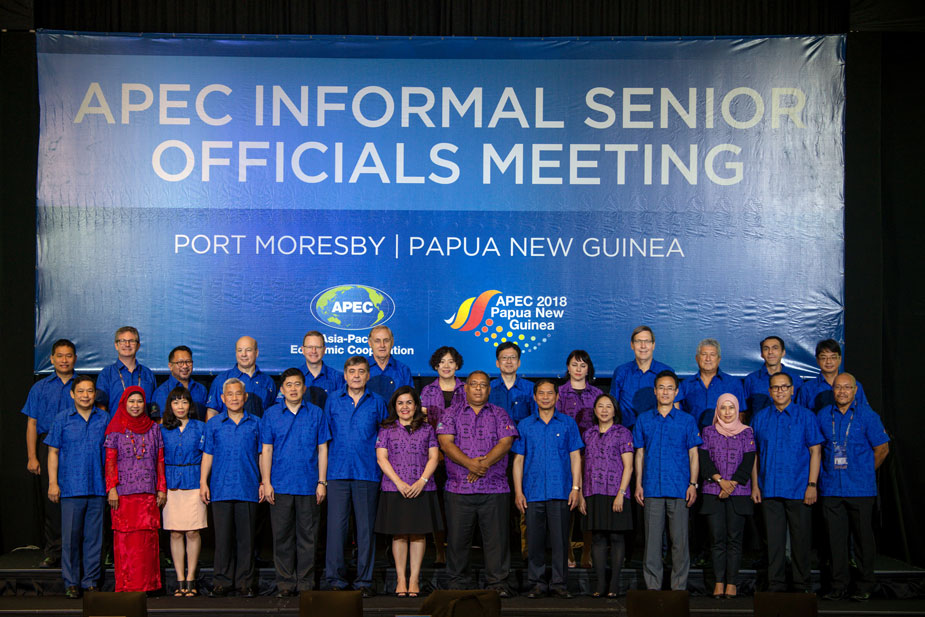 APEC to Channel Digital Disruptions Under New Chair
Port Moresby, Papua New Guinea, 06 December 2017
The 21 APEC member economies will take steps toward enabling more digitally-driven and inclusive trade and growth in 2018, the group's incoming chair, Papua New Guinea, announced at a key planning meeting in Port Moresby.
The main policy priorities to be advanced by APEC members next year, under the theme "Harnessing Inclusive Opportunities, Embracing the Digital Future," were agreed following deliberations between APEC Senior Officials. The focus will be on empowering workers and businesses, in all parts of the region, to thrive in an age of digital disruption.
"Under the theme of "Harnessing Inclusive Opportunities, Embracing the Digital Future," Papua New Guinea in 2018 will ensure focus on today's core economic and social challenges," explained Papua New Guinea Minister for APEC, Justin Tkachenko, in remarks to APEC Senior Officials. "In 2018, we will advance policy discussions on the digital economy through all of APEC's key work programs."
"We will also continue to focus on connectivity and facilitate ongoing work on the multi-year program on structural reforms," added Minister Tkachenko. "Under this theme, Papua New Guinea will advance APEC's ongoing agenda through our three core policy priorities."
To this end, APEC's 2018 priorities that will advance APEC's ongoing agenda include:
Improving Connectivity, and Deepening Regional Economic Integration;

Promoting Inclusive and Sustainable Growth; and,

Strengthening Economic Growth through Structural Reform.
"With shifting global dynamics, next generation issues and ongoing challenges, it's going to be quite interesting to see how these can be considered during a time when APEC looks to renew our vision for economic prosperity in the region," said Ambassador Ivan Pomaleu, 2018 Chair of APEC Senior Officials. "There are new opportunities for growth and development but with these opportunities come challenges that we must acknowledge and manage."
"As we work through these issues in a deliberate and systematic approach, we'll be able to articulate a new vision that we seek by 2020 and to also be practical, realistic and action-oriented," Ambassador Pomaleu concluded.
Trade and sectoral officials will next convene in Port Moresby from 24 February 2018 to proceed with implementation work, culminating with the First APEC Senior Officials' Meeting in March to decide the way forward.
# # #
For further details, or to arrange possible media interviews, please contact:
David Hendrickson +65 9137 3886 at [email protected]
Michael Chapnick (in Port Moresby) +65 9647 4847 at [email protected]
More on APEC meetings, events, projects and publications can be found on www.apec.org. You can also follow APEC on Twitter and join us on Facebook, LinkedIn and Instagram.