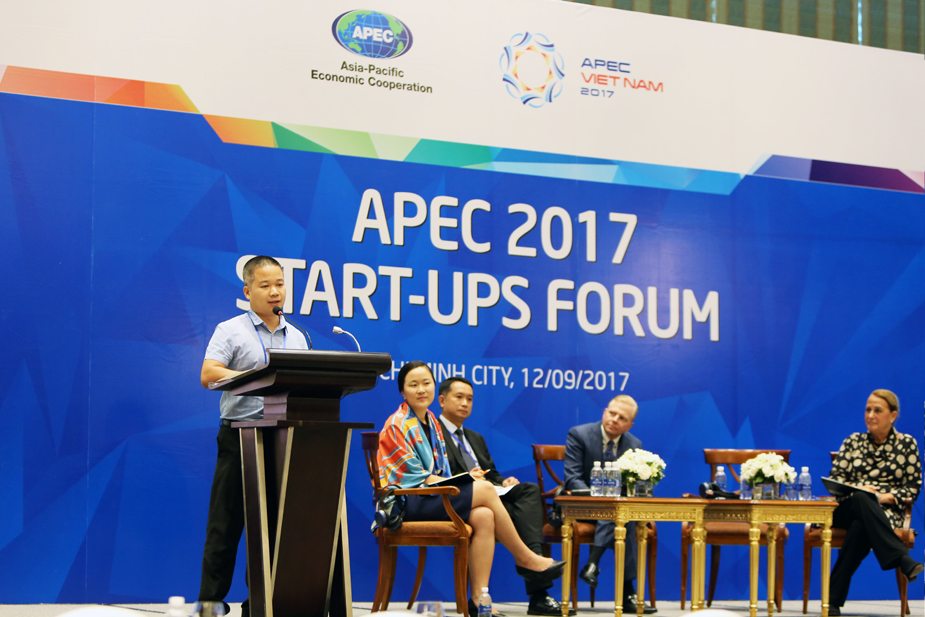 APEC Startup Push Promotes New Silicon Valleys
Ho Chi Minh City, Viet Nam, 15 September 2017
Small business officials from the 21 APEC member economies are optimizing conditions for Asia-Pacific startup growth as digital advances open up new business and trade opportunities within the technology sector.
Officials convened in Ho Chi Minh City, a rising startup hub that is driving the development of Viet Nam's own Silicon Valley, to implement measures to make it easier for entrepreneurs across the Asia-Pacific to bring the next Uber, WhatsApp or Airbnb to market.
Their focus is on easing administrative and investment bottlenecks, and improving support services delivery to a new generation of startups. It sets the stage for a key meeting of Small and Medium Enterprise Ministers here on Friday to create a more nurturing policy environment.
"The push for a stronger startup fire and spirit is a priority as economies in the region integrate," said Dang Huy Dong, Viet Nam's Vice Minister of Planning and Investment. "APEC hopes to build a constructive and valuable ecosystem for startups to innovate and trade."
There are signs of progress: the elimination of bureaucratic red tape in APEC has reduced the average time it takes to start a business in the region from one month to two weeks in just five years. It is opening to door to entrepreneurship fueled by opportunities in the digital space.
"We are seeing a big wave of startup development," said Do Son Duong, Founder and CEO of Toong coworking space chain, which caters to more than 1,000 startups in Viet Nam. "Many people are studying information systems abroad and returning to start their own business."
"We are living in a demand economy. People are always looking for something better," added Do. "For tech startups, if they don't have a solution to shorten product development or collaborate to launch their product efficiently then they will lose the opportunity." (VIDEO: Do Son Duong on the State of Startups)
Officials are working to expedite the process by deploying public-private startup exchanges, mentoring and training in areas such as ICT use, management, branding and intellectual property to boost entrepreneurship and talent pipelines.
"Changes in technology in terms of cloud, connectivity, artificial intelligence and big data are creating huge opportunity for every startup, in every sector," said Tran Huu Duc, Head of FPT Ventures, a corporate venture capital fund, and CEO of seed fund Vietnam Innovative Startup Accelerator, or VIISA. (VIDEO: Tran Huu Duc on Nurturing Startups)
To harness this potential, officials are introducing matchmaking events and online channels to pair startups in APEC economies with investors and corporate partners to support their growth and integration into burgeoning cross-border production and supply chains.
"Healthy economies and employment are supported by IT savvy startups that can survive and realize new market opportunities," said Akira Shimbo of Japan's Organization for Small and Medium Enterprises and Regional Innovation. "Knowing how to do it and who to collaborate with is key." (VIDEO: Akira Shimbo on Startups Going Global)
"In the grand scheme of things, connections between people, perspectives and places in APEC are driving business innovation in the digital era more than the technology itself," concluded Prof Lou Pelton of the University of North Texas College of Business Marketing and Logistics. (VIDEO: Prof Lou Pelton on Startups and Digital Advances)
# # #
For further details, or to arrange possible media interviews, please contact:
David Hendrickson +65 9137 3886 at [email protected]
Michael Chapnick +65 9647 4847 at [email protected]
More on APEC meetings, events, projects and publications can be found on www.apec.org. You can also follow APEC on Twitter and join us on Facebook, LinkedIn and Instagram.