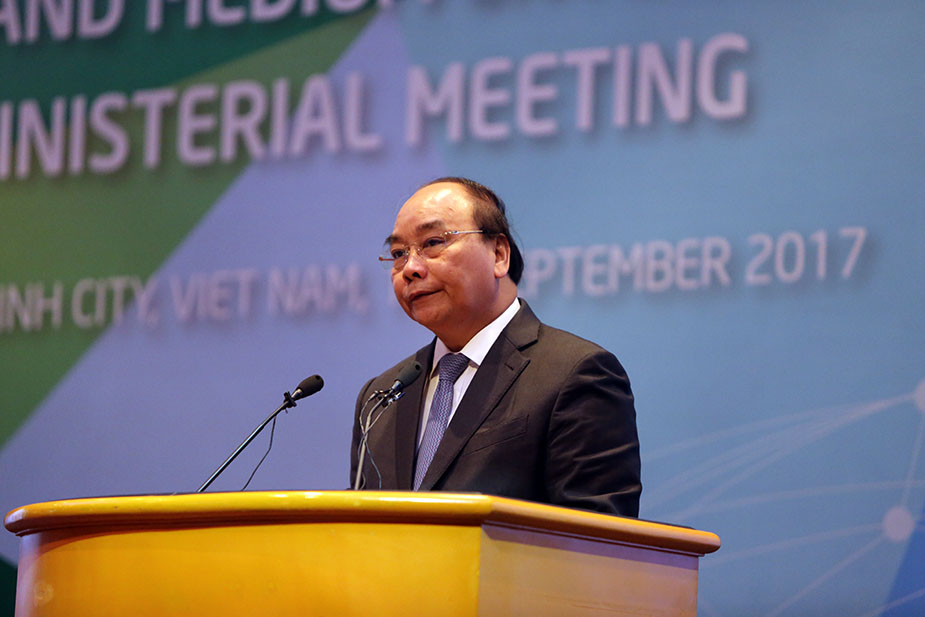 Prime Minister Phuc to SME Ministers: Address Digital Divides
Ho Chi Minh City, Viet Nam, 15 September 2017
Viet Nam Prime Minister Nguyen Xuan Phuc opened a key policy meeting of APEC Small and Medium Enterprise Ministers by calling upon them to accelerate their efforts to enable small firms to capture new trade opportunities created by digital advances in the Asia-Pacific.
Prime Minister Phuc addressed Small and Medium Enterprise Ministers from APEC member economies convening in Ho Chi Minh City to introduce collaborative measures for improving small business competitiveness and innovation. They are intent on narrowing participation gaps in increasingly digitally-driven trade vital to the future of growth and livelihoods in the region.
"The birth of new technologies like the internet of things, artificial intelligence, robot technology, nanotechnology and 3D printing technology are changing mindsets as well as the way of making wealth and the lives of people worldwide," said Prime Minister Phuc.
"Small and medium enterprises' technology level, capital and management skills are still limited. These firms are very vulnerable but they are also dynamic and adaptable," Prime Minister Phuc noted. "The expectation and wish of Viet Nam is to cooperate with APEC economies to facilitate small business innovation and access to global markets to stride forward in the digital age."
Small and medium enterprises account for 97 per cent of all businesses and half of employment among APEC economies. Ministers are finalizing actions to facilitate small business access to markets and participation in cross-border production and supply chains in the region.
Ministers are also detailing steps in APEC to enhance small firms' access to technology, management training and business matching as well as strengthen entrepreneurship, startup growth and business ethics.
"Advances in digital technology, the changing global economy and new opportunities for small and medium enterprises are posing support challenges," said Viet Nam Minister of Planning and Investment Nguyen Chi Dzung, Chair of the APEC Small and Medium Enterprise Ministerial Meeting. "APEC must keep up with digital trends, create favorable business conditions and implement a suitable means of support to drive the innovation and growth of small firms."
"I welcome Ministers to exchange their experiences and good practices on promoting innovation among small and medium enterprises," concluded Minister Dzung. "Enhancing cooperation in APEC is needed so that small businesses can fully become a new impetus for the sustainable growth of our region's economies."
The APEC Small and Medium Enterprise Ministerial Meeting will conclude on Friday.
# # #
For further details, please contact:
David Hendrickson +65 9137 3886 at [email protected]
Michael Chapnick +65 9647 4847 at [email protected]
More on APEC meetings, events, projects and publications can be found on www.apec.org. You can also follow APEC on Twitter and join us on Facebook, LinkedIn and Instagram.