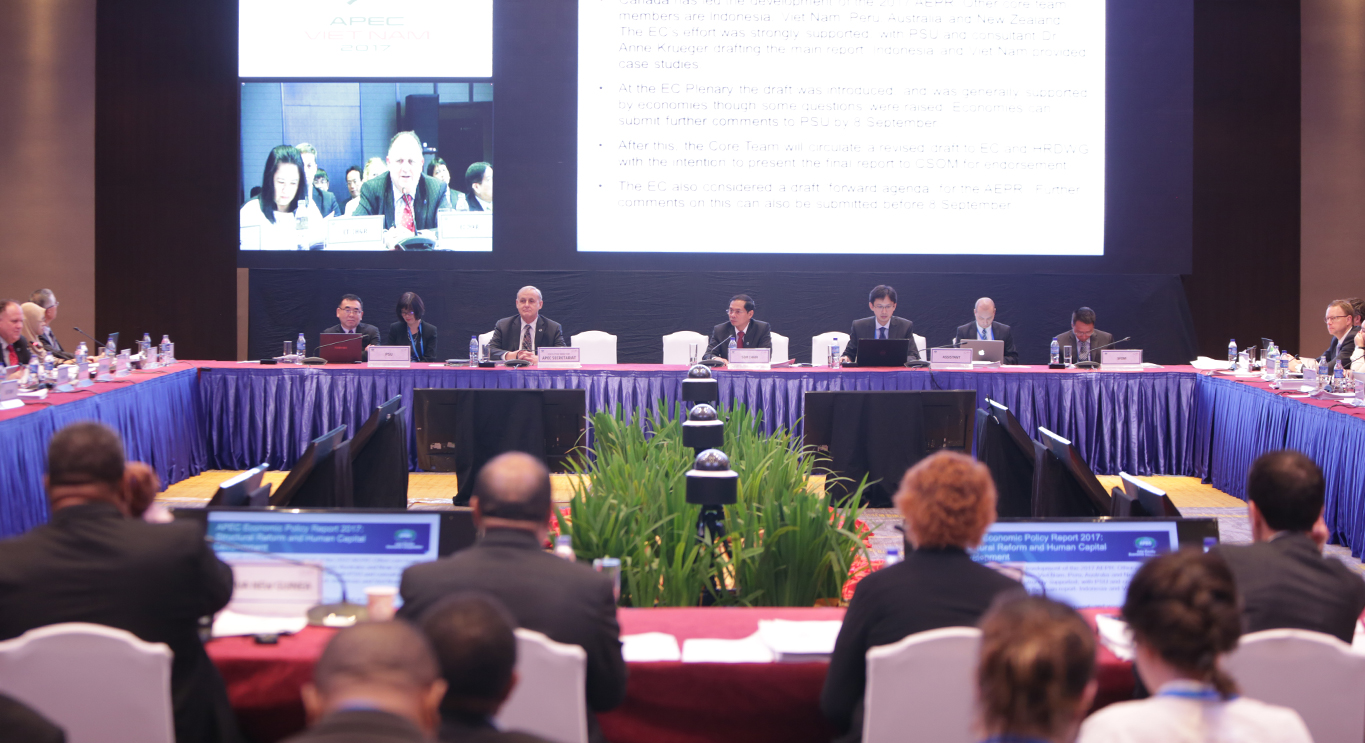 Senior Officials Restructure Trade Regimes to Secure Recovery
Ho Chi Minh City, Viet Nam, 30 August 2017
Senior Officials from the APEC member economies are restructuring their policy regimes to ease structural bottlenecks to trade in emerging sectors, seeking to limit barriers to continued growth recovery in the Asia-Pacific.
Senior Officials are detailing reforms and plans for implementation to better align the region's markets and open trade participation, which is vital to job creation and productivity in the digital era.
They are building on trade and sectoral policy development taken forward by APEC technical working groups in Ho Chi Minh City over the last 12 days.
"The outlook for the Asia-Pacific remains one of the strongest," noted Ambassador Bui Thanh Son, 2017 Chair of APEC Senior Officials. "But this bright prospect of growth, and also that of trade, hinges on the policy choices and actions by economies."
"The work ahead is massive," underscored Ambassador Bui who is also Viet Nam's Permanent Deputy Foreign Affairs Minister, referring to efforts member economies need to undertake in the lead up to the APEC Economic Leaders' Week in Da Nang in November.
Senior Officials are fleshing out measures to improve the institutional capacity of all APEC economies to implement reforms and enable trade, investment and high growth services sectors. Examples range from healthcare and financial services to travel and tourism.
Coordinated efforts to bridge policy knowledge, resource and transparency gaps—across governments, businesses, workforces and the general public—are among the measures under deliberation. They also include stepped up action to bolster e-commerce and behind-the-border conditions for entrepreneurship, innovation and trade, with focus on technical training, infrastructure and regulatory enhancements.
Doing more to tackle rural-urban development divides and the escalating threat climate change poses to agricultural production and supply chains in the region are parallel priorities on Senior Officials' agenda.
"APEC economies are in a better place now than they have been for some time but that doesn't mean that we're in cruise control," explained Dr Alan Bollard, Executive Director of the APEC Secretariat.
"We are facing a ceiling on trade growth that is structural and has no easy fixes," Dr Bollard continued. "As Asia-Pacific trade and consumer demand that drives it evolve, policy regimes must evolve too or risk aggravating the region's challenges," he concluded.
The Third APEC Senior Officials' Meeting concluded on Wednesday. It will be followed by the convening of sectoral Ministers from the region in Korea, Papua New Guinea and Viet Nam to introduce new and complementary trade and growth-boosting measures.
# # #
For further details, or to arrange possible media interviews, please contact:
David Hendrickson +65 9137 3886 at [email protected]
Michael Chapnick +65 9647 4847 at [email protected]
More on APEC meetings, events, projects and publications can be found on www.apec.org.
You can also follow APEC on Twitter and join us on Facebook, LinkedIn and
Instagram.