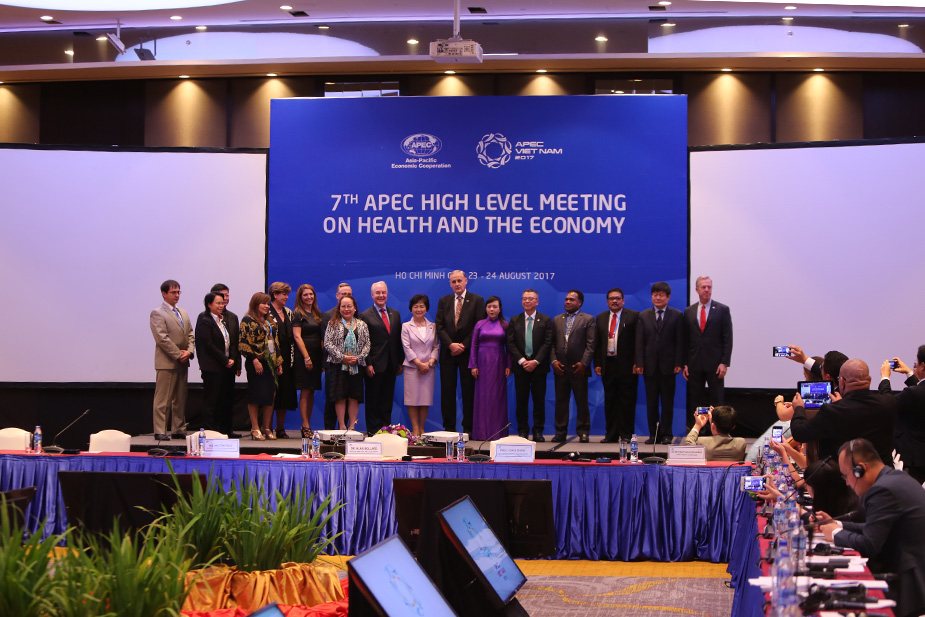 Health Ministers Boost Patient-First Investment
Ho Chi Minh City, Viet Nam, 25 August 2017
Health Ministers and officials from APEC member economies are building capacity for healthcare financing and access in the Asia-Pacific to accommodate dramatic changes in demand and ensure productive workforces.
Viet Nam Deputy Prime Minister Vu Duc Dam launched two-day policy consultations, held in Ho Chi Minh City and supported by inputs from the private sector, by underscoring the urgent need for action to improve health innovation and coverage.
"An investment in health is an investment for development," exhorted Deputy Prime Minister Vu. "Sharing policy successes and failures, and applying lessons learned is critical to moving APEC member economies towards our common goal of a healthy Asia-Pacific."
"APEC economies with similar levels of health expenditure achieve strikingly different health outcomes from their investments," added Prof Thi Kim Tien, Viet Nam's Health Minister and meeting chair. "Clearly, no single mix of policy options will work in every setting," she noted.
Ministers and officials are fleshing out new collaborative measures for enabling access to safe, effective and affordable healthcare for all people across APEC economies, in accordance with their APEC Healthy Asia-Pacific 2020 Initiative under implementation.
They are focused on advancing efficient, sustainable health system financing, trade and investment flows, and mechanisms for assessing returns on investment in health—bearing in mind variations in domestic circumstances as well as shared health challenges in APEC.
"The integration of APEC economies has opened up the fight against borderless health threats," explained Rocio Casildo, Chair of the APEC Health Working Group. "There are big opportunities to enhance our pandemic and chronic disease controls. We are working as a community to ensure good health because without it, we can't facilitate business and trade," said Casildo, who is also General Director of Cooperation and International Affairs at Peru's Health Ministry.
"APEC is working to harmonize regulations to foster the spread of health innovations," added Prof Maureen Goodenow, Chair of the APEC Life Sciences Innovation Forum. "Our ultimate goal is to speed access vital to public and economic health in the region," said Prof Goodenow, who is also Associate Director for AIDS Research and Director of the Office of AIDS Research at the United States National Institutes of Health.
Reduced worker productivity due to chronic diseases such as cancer, diabetes and strokes result in GDP losses between 4-6 per cent in APEC economies. Early retirement due to disability from these and other maladies cost the region an additional 2-2.5 per cent of GDP.
"All across the Asia-Pacific, there is rising demand for health services as more people enter the middle class and our aging populations grow," said Dr Alan Bollard, Executive Director of the APEC Secretariat.
"With increased healthcare demand comes the potential for policy partnership in APEC, and the insights practitioners and patient groups provide us on viability issues, to deliver greater value to people's lives," Dr Bollard concluded.
Measures generated during the APEC High Level Meeting on Health and the Economy will be presented to the region's Leaders for endorsement in Da Nang in November. APEC Finance Ministers will meet beforehand, in October in Hoi An, to pursue complementary policy solutions.
For more:
View photos from the APEC High Level Meeting on Health and the Economy here.
# # #
For further details, please contact:
David Hendrickson +65 9137 3886 at [email protected]
Michael Chapnick +65 9647 4847 at [email protected]
More on APEC meetings, events, projects and publications can be found on www.apec.org. You can also follow APEC on Twitter and join us on Facebook, LinkedIn and Instagram.