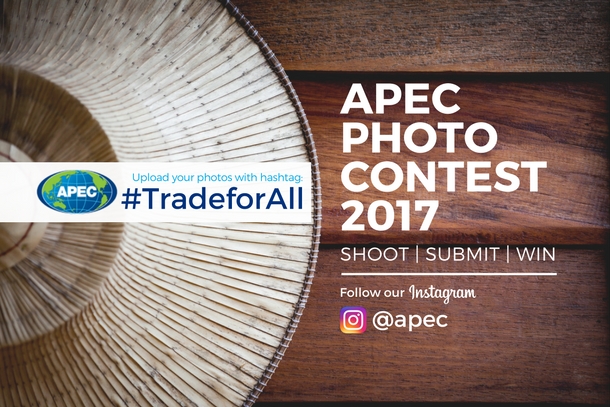 The 2017 APEC Photo Contest is now welcoming submissions from the public that provide interpretations of improving trade and living standards for all in the Asia-Pacific.
Amateur and professional photographers are encouraged to submit photos reflecting the following policy priorities being addressed by the 21 APEC member economies in 2017 in support of this objective:
Promoting Sustainable, Innovative and Inclusive Growth

Strengthening Small Business Competitiveness and Innovation in the Digital Age

Deepening Regional Economic Integration

Enhancing Food Security and Sustainable Agriculture in Response to Climate Change
Entrants in the 2017 APEC Photo Contest will be eligible to win cash prizes.
"We are seeking photos that illustrate the tangible benefits of Asia-Pacific trade and the urgency of extending them to all corners of society," explained Dr Alan Bollard, Executive Director of the APEC Secretariat, with trade and sectoral officials convening in Ho Chi Minh City, Viet Nam on 17-30 August to take this effort forward.
"The APEC Photo Contest provides a channel for the public to share its views on how trade makes life better and doubles as a visual benchmark for our policy work to optimize it," Dr Bollard added.
To submit your photos, please visit the 2017 APEC Photo Contest information hub. Entries are due by 29 September 2017 at 23:59 (Singapore/GMT +8).
Judges will select three winners who will each receive a cash prize: 1) First Prize: SGD 2,000; 2) Second Prize: SGD 1,500 and; 3) Third Prize: SGD 1,000.
This year's judges include:
Ambassador Bui Thanh Son, Permanent Deputy Foreign Affairs Minister, Viet Nam and 2017 Chair of APEC Senior Officials

Dr Alan Bollard, Executive Director, APEC Secretariat

Eric Badarat, Photo Editor, North America, Agence France-Presse

Palani Mohan, Award-Winning Photojournalist

Truong Huu Hung, Viet Nam Photographer and Multi-Year Winner, APEC Photo Contest
A Popular Choice Award winner chosen directly by the public on social media will receive SGD 750.The APEC Influencer Award of SGD 750 will also be granted to the photo submission with the most likes on Instagram (#TradeforAll).
The winning photos will be announced during the 2017 APEC Economic Leaders' Week in Da Nang, Viet Nam in November.
The APEC Photo Contest is open to citizens and permanent residents of APEC member economies. Please click here for further details, including submission guidelines and judging criteria.
# # #
For further details, please contact:
David Hendrickson +65 9137 3886 at drh@apec.org
Michael Chapnick +65 9647 4847 at mc@apec.org
More on APEC meetings, events, projects and publications can be found on www.apec.org. You can also follow APEC on Twitter and join us on Facebook, LinkedIn and Instagram.