President Quang: Globalization is Inevitable and Irreversible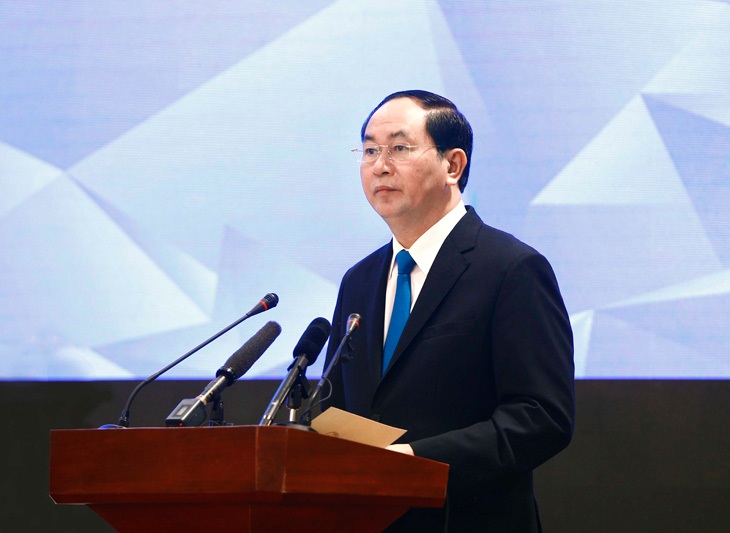 President of Viet Nam Tran Dai Quang affirmed the need for APEC to be an incubator of ideas and innovation, and an engine for growth and integration.
As the chair of APEC in 2017, President Quang highlighted the importance of accelerating the realization of free and open trade in the Asia-Pacific by member economies by 2020, also known as the Bogor Goals. He made these remarks at a multi-stakeholder dialogue which addressed the goals APEC should pursue in the future.
"Globalization is an inevitable and irreversible trend. However, we can take part in giving it shape to be more people-centered, inclusive and sustainable," said President Quang.
"More than ever, now is the time for APEC economies to send a strong message affirming their continued commitment to open markets, deepened regional economic integration, and support for a new, more advanced process of globalization."
This weekend, trade ministers from APEC economies will convene in Ha Noi to decide the next steps for trade amid concerns about globalization and the benefits it can bring to people.
"This new context of development also brings forward questions from APEC businesses and people: what has APEC done and what will it do for them," President Quang noted.
President Quang reiterated the importance of APEC economies jointly developing a more sustainable growth model, saying that growth will not be sustainable unless it is economically, financially, or socially inclusive.
"The record of the past three decades testifies to APEC's responsiveness and resilience. Over the next two or three decades, APEC needs to assume its global leadership role and play on its strength as a voluntary, flexible cooperation forum," concluded President Quang.
The APEC Ministers Responsible for Trade Meeting will be held here on 20-21 May, and will be chaired by Viet Nam Trade and Industry Minister Tran Tuan Anh.
# # #
For further details, please contact:
David Hendrickson (in Ha Noi) +65 9137 3886 at [email protected]
Michael Chapnick (in Ha Noi) +84 122 7280 513 at [email protected]
More on APEC meetings, events, projects and publications can be found on www.apec.org. You can also follow APEC on Twitter and join us on Facebook and LinkedIn.