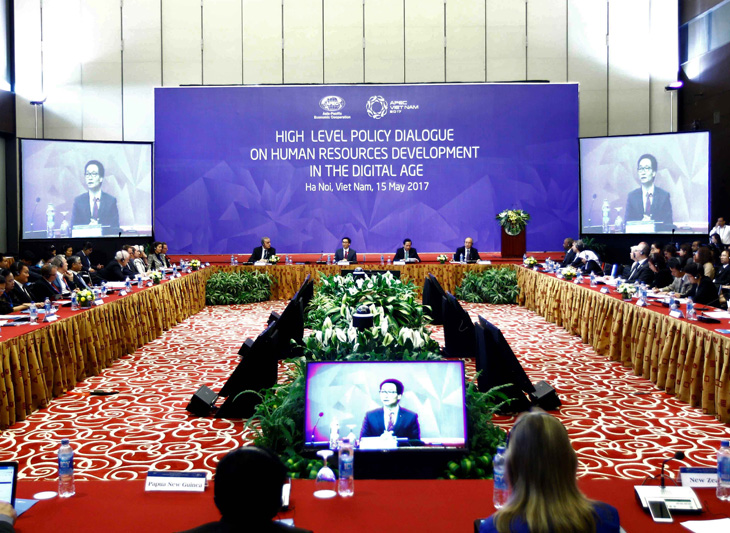 APEC Builds Labor Safeguards for Automation Era
Ha Noi, Viet Nam, 16 May 2017
Ministers and officials from the APEC member economies have agreed on a new set of collaborative measures for protecting workers against the disruptive effects of technological change.
The measures were finalized during a key human resources development meeting in Ha Noi, addressing rising concerns about the toll of automation on employment and social stability across the Asia-Pacific.
"There are sectors or occupations disappearing, but there are also many emerging or developing sectors and occupations," said Viet Nam Deputy Prime Minister Vu Duc Dam, in remarks to delegates. "Those who are proactive and ready for encountering changes will gain advantages."
"Proactively adjusting and implementing policies on employment and vocational training will support the response to the challenges that our economies are facing in human resources development," added Viet Nam Minister of Labor, Invalids and Social Affairs Dao Ngoc Dung, who chaired the meeting.
The new APEC Framework on Human Resources Development in the Digital Age details policy commitments by member economies to help workforces adapt to changes in technology and improve employment prospects for all, with particular attention to vulnerable groups.
Measures to be taken forward will target greater access to quality education and vocational training, entrepreneurialism, and enhancements to social security.
"The digital age is full of threats and opportunities for labor," said Dr Alan Bollard, Executive Director of the APEC Secretariat. "There will be the loss of jobs to automation and competition. We are seeing aging workforces struggle to adjust. But we also know many new jobs will arise in the digital economy which has the potential to deliver important productivity increases."
"It's very difficult to forecast technology developments and where jobs will be in the years ahead but we believe that they will be there," Dr Bollard concluded. "APEC's policy approach is about equipping people for the jobs of the future and building social protection for those who have difficulty adjusting."
View the APEC Framework on Human Resources Development in the Digital Age
# # #
For further details, or to arrange possible media interviews, please contact:
David Hendrickson +65 9137 3886 (in Ha Noi) at [email protected]
Michael Chapnick +84 122 7280 513 (in Ha Noi) at [email protected]
More on APEC meetings, events, projects and publications can be found on www.apec.org. You can also follow APEC on Twitter and join us on Facebook and LinkedIn.