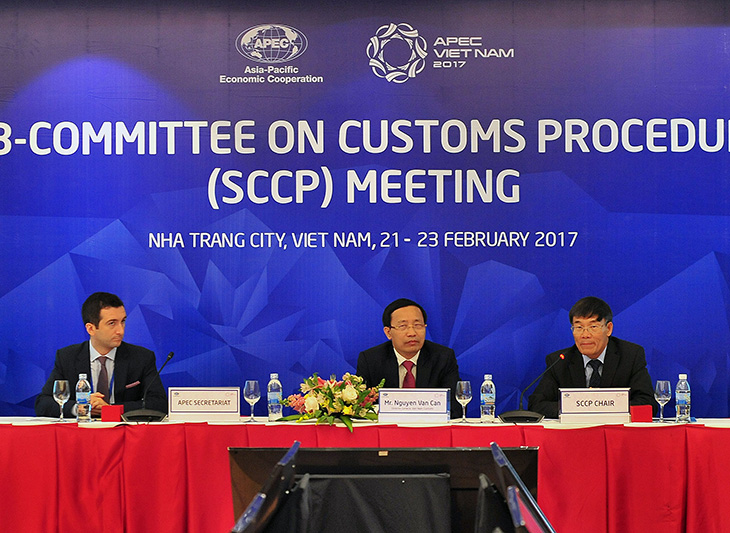 APEC Leads Breakthrough Trade Pact Implementation Push
Nha Trang, Viet Nam, 25 February 2017
APEC member economies are moving quickly to implement the newly ratified Trade Facilitation Agreement, the first multilateral trade deal under the World Trade Organization. They are intent on realizing its potential to boost trade participation and growth across the Asia-Pacific.
The Trade Facilitation Agreement, which entered into force this week after two-thirds of the WTO's 164 members ratified it, will simplify their customs procedures, making it easier, faster and cheaper to securely move goods across borders. Negotiations concluded in Bali in December 2013, bolstered by the support of APEC Leaders there two months earlier.
Customs officials from APEC economies conducting technical exchanges in Nha Trang, Viet Nam to accelerate implementation of the agreement hailed the news and its implications for fair trade.
"APEC economies are on the verge of full ratification of the Trade Facilitation Agreement and working closely to expedite adoption of its provisions," noted Vu Ngoc Anh, Chair of the APEC Sub-Committee on Customs Procedures, which administers regional policy cooperation within the sector. "Modernizing our customs systems in-line with the agreement will improve goods flows at borders and make it easier for businesses to trade in the region."
"Trade facilitating measures put into practice in APEC have already saved importers and exporters billions of dollars and fostered conditions for enhanced trade and economic growth," explained Vu, who is also Deputy Director-General of Viet Nam Customs. "The steps we are now taking to reduce the time and cost of customs compliance and doing business in the region will open up trade further, particularly among smaller scale producers and suppliers."
To date, 19 out of 21 APEC economies have ratified the Trade Facilitation Agreement which is projected to increase global trade by up to USD1 trillion annually. Collaborative implementation efforts in APEC are focused on enabling actions such as the deployment of single window systems that provide one location for the filing of regulatory documentation as well as designating Authorized Economic Operators that offer faster customs clearance of goods to qualifying traders and improving these programs.
Parallel emphasis ranges from support for transition from paper-based to electronic processes and the application of information technologies, to managing risk. Complexities include rising e-commerce growth and the challenges it creates for customs and other agencies in controlling the cross-border flow of goods. Officials are moreover sharing guidance on coordination across agencies and business to better orient them to the changing customs environment.
"Customs authorities in APEC understand the requirements of the Trade Facilitation Agreement and practical guidelines developed by the World Customs Organization for the harmonized institution of customs procedures. They just need to continue what they're doing," said Toshihiko Osawa, Technical Officer at the Compliance and Facilitation Directorate of the World Customs Organization. "Non-APEC members can learn from APEC lessons and experiences."
"Trade Facilitation Agreement implementation is well on its way in APEC," echoed Shiumei Lin, Vice President of Public Affairs, Asia-Pacific at UPS. "Advancing work in the region to address deeper issues impacting supply chains like transportation, domestic regulations and policy coordination and coherence will help to build on this progress and optimize the trading environment for all," she concluded.
# # #
For further details, or to arrange possible media interviews, please contact:
David Hendrickson (in Nha Trang) +65 9137 3886 at [email protected]
Michael Chapnick (in Nha Trang) +65 9647 4847 at [email protected]
More on APEC meetings, events, projects and publications can be found on www.apec.org. You can also follow APEC on Twitter and join us on Facebook and LinkedIn.