President Kuczynski Rallies APEC Leaders on Trade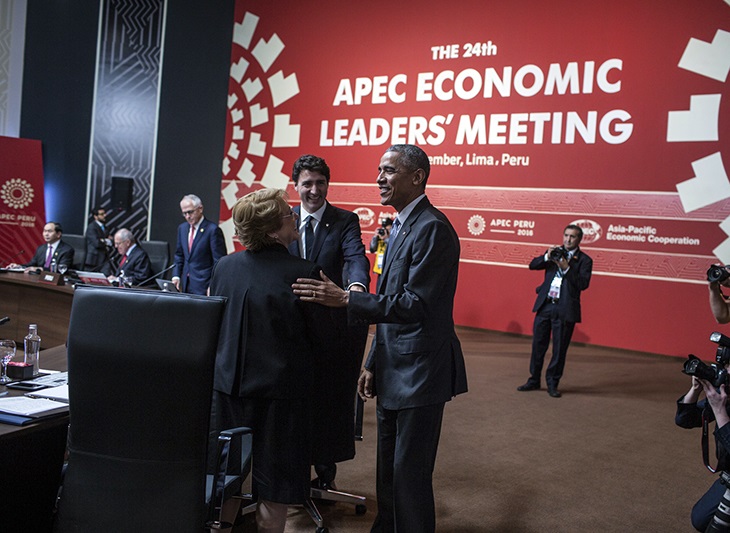 Peru President Pedro Pablo Kuczynski opened the 2016 APEC Economic Leaders' Meeting in Lima on Sunday by reaffirming confidence in international trade as a mechanism for achieving positive economic and social change. But he exclaimed that more must be done to address concerns about equity and fairness that are fueling an alarming rise in anti-globalization sentiment worldwide.
Under the theme Quality Growth and Human Development, President Kuczynski, the meeting Chair, underscored the role cooperation between the 21 APEC member economies can play to reinvigorate sluggish trade while opening up opportunities for small businesses and enhancing the compatibility and productivity of the region's workforces. He and fellow APEC Leaders are assessing ways of jointly tackling these challenges and put forward a concrete plan for action.
"The world today values human and social development. Growth by itself is not enough. We have to do more," said President Kuczynski. "In this APEC meeting, facing a rapidly changing international context, we are going to try to emphasize, strongly, the points we think are important for the inclusive, sustainable growth of the Asia-Pacific."
Leaders will exchange views on the state of the regional and global economy and, against this backdrop, how APEC can promote voluntary reforms in support of free trade and capital mobility. Leaders will furthermore examine the primary challenges to facilitating greater integration and connectivity around the Asia-Pacific, leveraging the advantages of free trade and investment.
Parallel focus will be on boosting small business internationalization and participation in international production and supply chains as well as maximizing opportunities offered by digital trade, services and the knowledge economy. APEC's role in addressing key regional food security risks will be an additional emphasis, taking into account changes in supply and demand, and the impact of climate change and water scarcity within the sector.
"What we would like to see in the next five years is strong growth in the Asia-Pacific region. Growth in trade, in investment, in services, in tourism, in employment because these are the passport to prosperity and we should strongly emphasize that," President Kuczynski explained. "We will discuss how we can move forward in this context."
President Kuczynski, an economist, and Christine Lagarde, Managing Director of the International Monetary Fund, will set the tone for the proceedings by leading an informal dialogue with APEC Leaders on the global economic landscape.
# # #
For further details, please contact:
David Hendrickson (in Lima) +65 9137 3886 at [email protected]
Michael Chapnick (in Lima) +65 9647 4847 at [email protected]
More on APEC meetings, events, projects and publications can be found on www.apec.org. You can also follow APEC on Twitter and join us on Facebook and LinkedIn.