Ministers: APEC to Set an Example for the World on Trade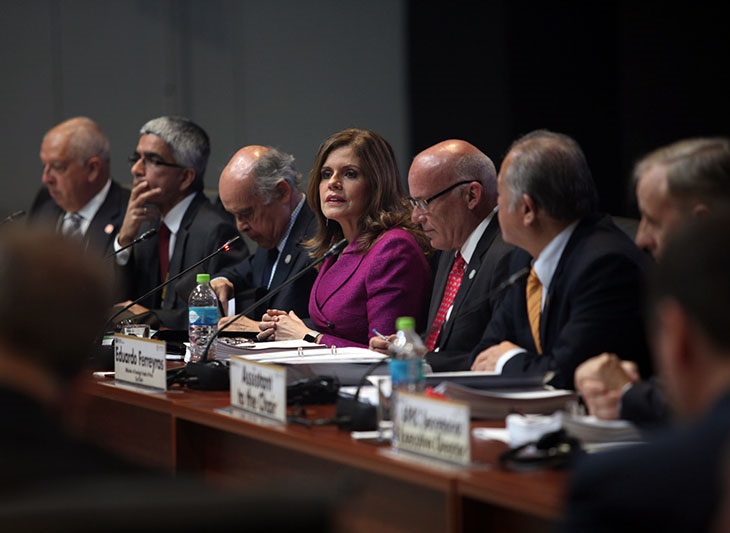 Ministers from the 21 APEC member economies are meeting in Lima over the next two days to reinvigorate globalization and trade policy. They are intent on countering slowing global demand and rising skepticism of trade's ability to deliver equitable benefits for the region's 3 billion people.

The 2016 APEC Ministerial Meeting will finalize new collaborative initiatives to this end under the theme of Quality Growth and Human Development. Priorities include advancing regional economic integration that improves job creation and living standards, enhancing the regional food market, modernizing small businesses and developing human capital.

"You see what is going on in the world right now, this anti-globalization situation that we face," explained Mercedes Araoz, Peru's Second Vice President, in opening remarks. She begged the questions: "'What is there for us in the global world? Is it worth it to integrate? Is it worth it to build up an agenda of integration or is it only for the big companies and not for us?'"

"The most important thing is that people are receiving the benefits," Vice President Araoz, continued. "We are building up something different for our people and showing that we are really generating changes for our world and not losing the main purpose of having integration among ourselves."

The meeting is co-chaired by Peru Foreign Minister Ricardo Luna and Foreign Trade and Tourism Minister Eduardo Ferreyros. Policy recommendations will be shared by representatives of the APEC Business Advisory Council and APEC's Official Observers – the Association of Southeast Asian Nations, the Pacific Economic Cooperation Council and Pacific Island Forum.

"It is important to reflect on the sharp and clear challenges of our time," said Minister Luna, pointing to instability and economic slowdown, environmental degradation, the emergence of protectionist tendencies, inequality and sudden shifts in geo-economic and geo-political arrangements. "These, of course, affect us in APEC and they affect more directly our people."

"We need to overcome these challenges as we continue to work to make our economies less vulnerable and even more resilient," he added. "For that endeavor, we need to rely on APEC's strengths and to reaffirm APEC's pillars of trade and investment liberalization, the facilitation of commerce and the strengthening of technical and economic cooperation in our vast region."

World Trade Organization Director-General Roberto Azevedo will provide a briefing on the state of the global trading system to guide Ministers' decision-making.

"Considering the current global situation, we should set an example to the world and carry out initiatives and actions towards APEC's core objectives on trade," noted Minister Ferreyros, "A study on the Free Trade Area of the Asia-Pacific is one APEC's most important deliverables this year and should set a milestone for continuing work towards the realization of this mega regional agreement."

"We understand that the challenge ahead are great but we strongly believe that if we continue working on trade liberalization and facilitation, we will contribute to greater efficiency and competitiveness," concluded Minister Ferreyros. "This can, in turn, generate greater growth and ultimately set higher living standards for our people."

The APEC Ministerial Meeting will conclude on Friday. It will be followed by the 2016 APEC Economic Leaders' Meeting on Sunday.

# # #

For further details, or to arrange possible media interviews, please contact:

David Hendrickson (in Lima) +65 9137 3886 at [email protected]

Michael Chapnick (in Lima) +65 9647 4847 at [email protected]

More on APEC meetings, events, projects and publications can be found on www.apec.org. You can also follow APEC on Twitter and join us on Facebook and LinkedIn.