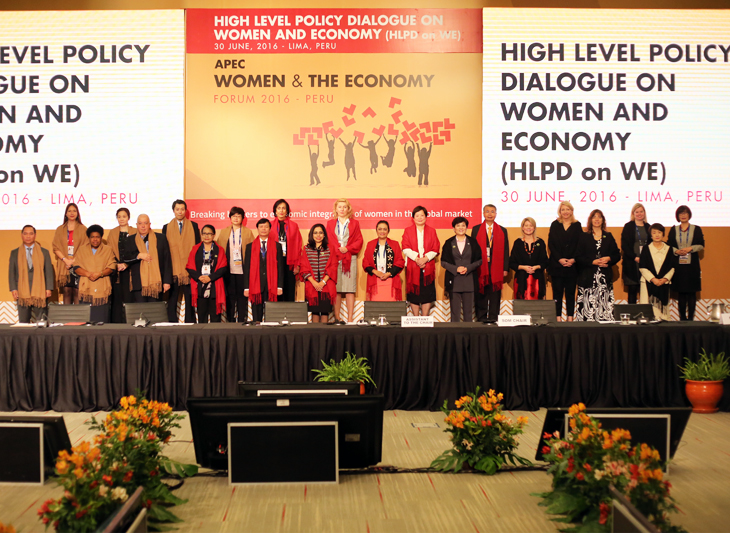 Ministers, Business Issue Statement on Achieving Gender Equality
Lima, Peru, 30 June 2016
APEC Ministers, the APEC Business Advisory Council and other private sector leaders issued a statement at the conclusion of their joint meeting in Lima on Wednesday on facilitating greater women's economic empowerment and inclusive growth.
The statement reflects the outcomes of the 2016 APEC Women and the Economy Forum chaired by Marcela Huaita, Peru's Minister of Women and Vulnerable Populations, under the theme "Breaking Barriers to the Economic Integration of Women in the Global Market."
It describes joint actions to be taken forward by APEC member economies and the private sector in the following priority areas:
Economy care systems: recognizing, reducing and redistributing unpaid care and domestic work for inclusive growth
Costs of gender-based violence in the context of economic development
Mechanisms for the internationalization of micro, small and medium enterprises led by women
Financial and economic literacy and inclusion for access to capital
Digital literacy for economic inclusion
Click to view the 2016 APEC Women and the Economy Forum Statement
# # #
For more:

Minister Huaita discusses policy inroads and next steps for APEC economies and the private sector to break glass ceilings and empower women in the workplace at this link.

For additional information, or to arrange possible media interviews, please contact:

David Hendrickson +65 9137 3886 at [email protected]
Michael Chapnick +65 9647 4847 at [email protected]
More on APEC meetings, events, projects and publications can be found on www.apec.org. You can also follow APEC on Twitter and join us on Facebook and LinkedIn.