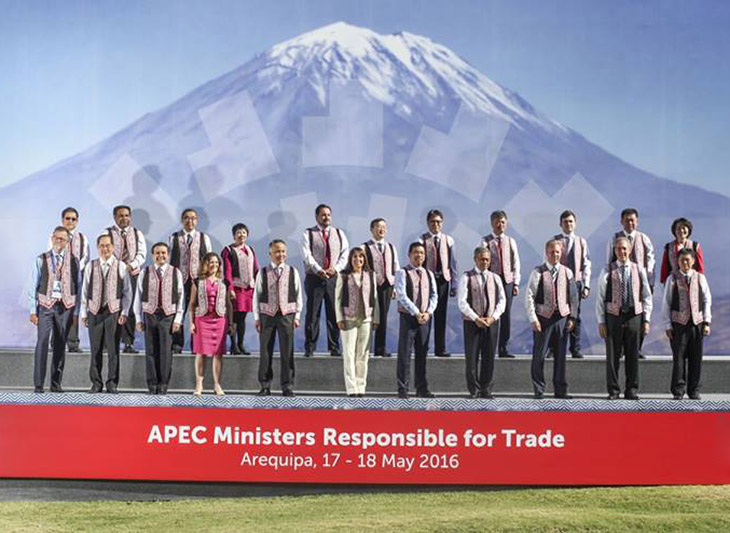 APEC Trade Ministers Issue Statement in Arequipa
Arequipa, Peru, 19 May 2016
Trade Ministers from the APEC member economies issued a statement following their meeting in Arequipa on Wednesday on liberalizing and facilitating trade and investment to regain economic momentum and achieve their goals of prosperity for the region's people.
The statement reflects the outcomes of the 2016 APEC Ministers Responsible for Trade Meeting chaired by Magali Silva Velarde-Alvarez, Peru's Minister of Foreign Trade and Tourism. It describes joint actions to be taken forward by APEC economies in the following priority areas:
Enhancing Regional Economic Integration Agenda
Promoting Micro, Small and Medium Enterprise Internationalization
Developing Human Capital
Strengthening Economic and Technical Cooperation
Click here to view the APEC Ministers Responsible for Trade Statement
Minister Silva also released a Chair's Statement on Supporting the Multilateral Trading System.
For more:
See downloadable photos from the APEC Ministers Responsible for Trade Meeting here.
Trade Ministers from a cross-section of APEC economies discuss their trade priorities in the region in video interviews at this link.
# # #
For additional information, or to arrange possible media interviews with APEC officials, please contact:
David Hendrickson (in Arequipa) +65 9137 3886 at [email protected]
Michael Chapnick (in Arequipa) +65 9647 4847 at [email protected]
More on APEC meetings, events, projects and publications can be found on
www.apec.org
. You can also follow APEC on
Twitter
and join us on
Facebook
and
LinkedIn
.