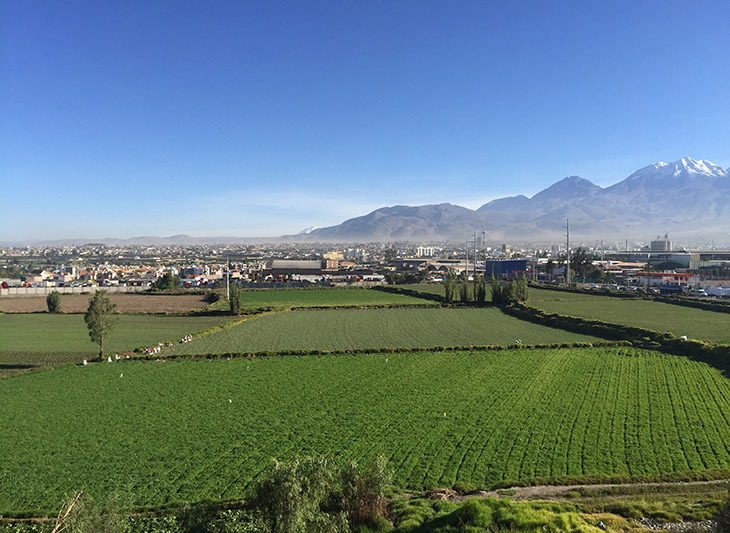 APEC, Business Cultivate Climate Change-Proof Agriculture
Arequipa, Peru, 11 May 2016
Agriculture and fisheries officials from the 21 APEC member economies are partnering with the private sector to boost innovation needed to ensure food security in the world's most populous region amid escalating climate change threats.
Fleshing out the potential for innovative practices to improve industry resilience against the effects of climate change and avenues for cultivating their development and use in the region was a focus of public-private sector discussions this week in Arequipa—one of Peru's most arid yet agriculturally rich areas.
"Peru has been a leader of agricultural innovation and adaptation dating back to the Inca civilization 700 years ago and is now on the cusp of a renaissance that could bolster food security across the Pacific in this period of climate change," said Cesar Sotomayor, Peru's Vice Minister of Agricultural Policies and Chair of the APEC Policy Partnership on Food Security. The body drives public-private sector engagement on all aspects of food security in the region.
"APEC is breaking new ground in efforts to mitigate the risks that climate change poses to agriculture and food industry capacity to meet rising food demand," Sotomayor explained. "Collaboration being taken forward in the region to foster the adoption of cutting-edge technologies and approaches could greatly improve food access despite swings in global temperatures."
Officials and private sector experts are mobilizing to tackle climate challenges ranging from increases in yield variation, weather disasters including droughts and flooding, and agricultural diseases, to shifts in the abundance and distribution of fish in oceans and waterways—all possible drivers of price hikes for consumers.
Together they assessed the role policy cooperation in APEC can play to ensure the viability of next generation solutions for meeting the up to 70 per cent increase in food supplies required to feed the world's population by 2050 as well as heightened appetite for protein among the expanding middle class in emerging Asia-Pacific economies.
Ways to drive advancements in land, water and crop use, cultivation and harvesting techniques, and supply chain performance are a point of emphasis. Examples include facilitating infrastructure investment and development, building capability and awareness of industry innovation and best practices, and establishing financing and regulatory conditions that encourage their grassroots deployment.
"There must be a strong economic case for early adoption of climate smart agriculture across production and supply chains to achieve its intended goals," noted Tony Nowell, Vice Chair of the APEC Policy Partnership on Food Security and APEC Business Advisory Council representative from New Zealand. "This is a sizeable task that the public and private sectors in the region are now endeavoring to address in coordination with one another."
The work being taken forward on climate insulating agricultural practices in APEC is further guided by its potential to significantly reduce the industry's environmental footprint which accounts for about a quarter of carbon emissions generated by humans worldwide.
"The continuation of business as usual in agriculture and fisheries is no longer an option if food security is to be maintained over the coming decades" said Dr Andy Jarvis of the Consultative Group for International Agricultural Research's Research Program on Climate Change, Agriculture and Food Security.
"Changes that encompass farms, landscapes, marine resources, foods systems and services like insurance and climate information are essential," he concluded. "Greater policy support for industry innovation in a region as large and with as many people as APEC is an important step in the right direction but it must be targeted and sustained for the long haul."
# # #
For more:
Details on APEC's cluster of technical meetings underway in Arequipa through this week and subsequent meeting of Trade Ministers to modernize globalization can be found here.
See the complete schedule of APEC meetings in Arequipa here.
For additional information, or to arrange possible media interviews with APEC officials, please contact:
David Hendrickson (in Arequipa) +65 9137 3886 at [email protected]
Michael Chapnick +65 9647 4847 at [email protected]
More on APEC meetings, events, projects and publications can be found on www.apec.org. You can also follow APEC on Twitter and join us on Facebook and LinkedIn.