Aquino to APEC Leaders: Advance People-Centered Agenda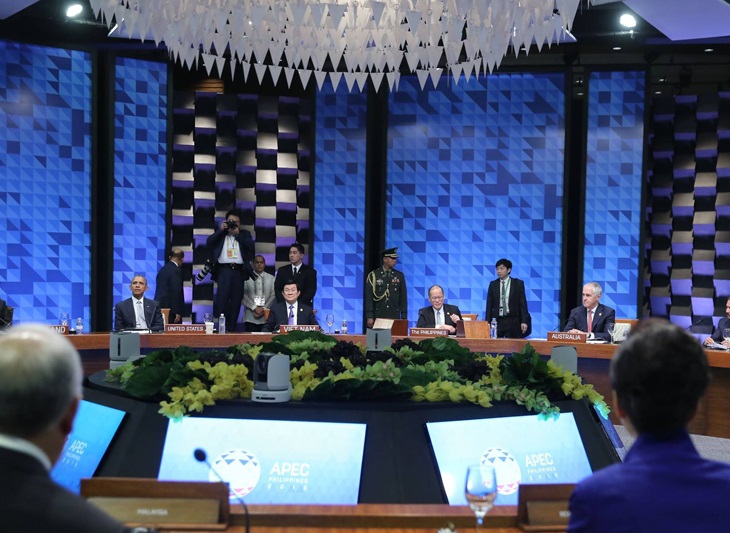 "Building on APEC's achievements over the past generation, the Philippines hosts APEC with a people-centered agenda that embraces all segments of society as invaluable participants in a growth that is holistic," said Philippine President Benigno Aquino III, in remarks to APEC Economic Leaders in Manila on Thursday.
President Aquino, chair of the proceedings, called for the Leaders of the 21 APEC members to advance an agenda for joint action that lifts their economies and improves the Asia-Pacific region's prospects for the future.
He explained that a growth agenda creates jobs, sends children to school, puts food on the table, raises standards of living, protects the environment, fosters creativity and innovation, and levels the playing field.
"In short, growth that balances the pressing needs of the present with our shared mission of leaving behind a region and a world that is better than we found it," said President Aquino.
President Aquino noted APEC's role as both an incubator of next generation policy ideas and initiatives, and a mechanism for facilitating implementation across the region's diverse member economies.
He also described the importance of this role towards realizing APEC members' Bogor Goals for free and open trade and investment and addressing shared development challenges as well as building momentum for the COP21 climate change conference in Paris and World Trade Organization Ministerial Conference in Kenya to implement the Bali Package.
"The main challenge for all of us is finding a way to sustain and strengthen quality growth, particularly by considering policy responses that promote inclusivity, while addressing the current domestic and external challenges to APEC's growth," exhorted President Aquino.
APEC member economies encircle the Pacific Rim and together account for about forty per cent of the world's population, half of global trade, 60 per cent of total GDP and much of the world's growth at present. The Philippines, a founding member of APEC, previously hosted the APEC Economic Leaders' Meeting nearly two decades ago—in 1996 in Subic Bay.
"Together, we can write a growth story with a vision of economic prosperity and interconnectedness felt at all levels," President Aquino concluded. "As regional economic integration continues to take form, APEC's role – when viewed through the prism of inclusive growth – will be defined not only according to the future of economies but also of the people that drive economic growth."
The 23rd APEC Economic Leaders' Meeting will conclude on Thursday afternoon. President Aquino will hold a news conference on the outcomes of the proceedings.
# # #
For further details, please contact:
David Hendrickson (in Manila) +65 9137 3886 at [email protected]
Michael Chapnick (in Manila) +65 9647 4847 at [email protected]
More on APEC meetings, events, projects and publications can be found on www.apec.org. You can also follow APEC on Twitter and join us on Facebook and LinkedIn.