APEC Leaders Issue Declaration in Manila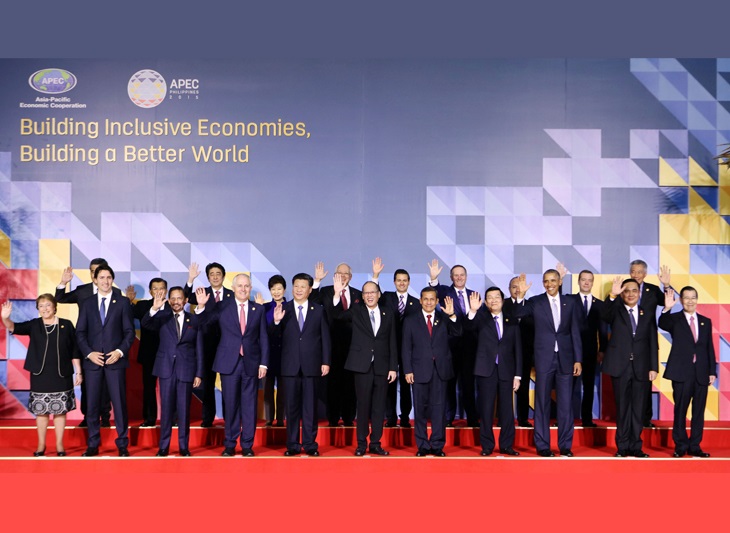 The Leaders of the 21 APEC member economies concluded their meeting in Manila on Thursday by issuing the 23rd APEC Economic Leaders' Meeting Declaration— Building Inclusive Economies, Building a Better World: A Vision for an Asia-Pacific Community.
View the Manila Declaration of APEC Leaders
The Declaration outlines new commitments for APEC members to take forward over the coming year to build inclusive economies; foster micro, small and medium enterprises' participation in regional and global markets; build sustainable and resilient communities; invest in human capital development; and enhance the regional economic integration agenda.
The Declaration states that while achieving ongoing economic transformation will not be easy, APEC Leaders are confident that APEC members will continue to drive regional and global economic prosperity through quality economic growth, as supported by these collective commitments.
The following annexes accompany the Declaration:
Leaders also issued an Annex to the APEC Strategy for Strengthening Quality Growth.
Leaders also endorsed the Statement on Supporting the Multilateral Trading System and the 10th WTO Ministerial Conference.
Peru will chair APEC throughout 2016 and host the 24th APEC Economic Leaders' Meeting.
Philippine President Benigno S. Aquino III, Chair of the 2015 APEC Economic Leaders' Meeting, will hold a news conference on Thursday afternoon. It can be viewed via live stream at this link.
# # #
For further details, please contact:
David Hendrickson (in Manila) +65 9137 3886 at [email protected]
Michael Chapnick (in Manila) +65 9647 4847 at [email protected]
More on APEC meetings, events, projects and publications can be found on www.apec.org. You can also follow APEC on Twitter and join us on Facebook and LinkedIn.