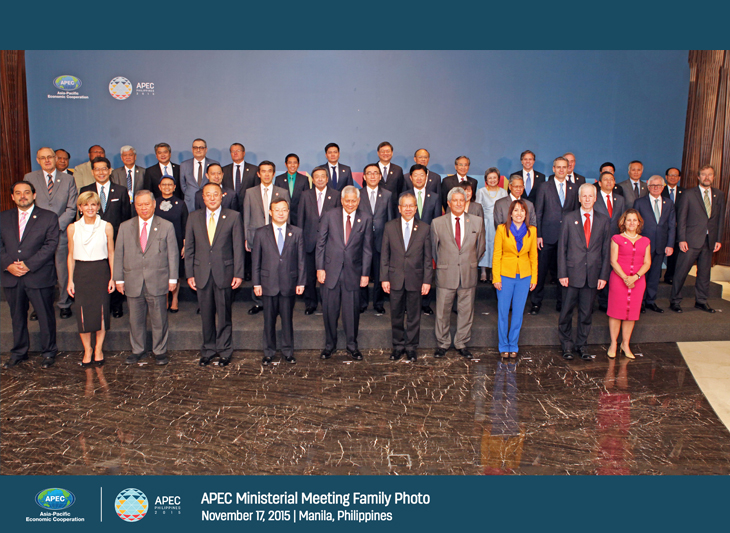 APEC Ministers Issue Joint Statement
Manila, Philippines, 17 November 2015
A Joint Statement detailing new actions for advancing an Asia-Pacific economic growth agenda that benefits everyone and the future generation was issued by Ministers from the
21 APEC member economies
following the conclusion of the 2015 APEC Ministerial Meeting on Tuesday in Manila.
View the 2015 APEC Ministerial Meeting Joint Statement and Annexes
The actions described in the Joint Statement continue to chart a course for the region in the 21st century based on enhancing the regional economic integration agenda; fostering micro, small and medium enterprises' participation in regional and global markets; investing in human capital development; and building sustainable and resilient communities.
A series of measures for advancing APEC member economies' regional and global priorities are furthermore detailed in the following Joint Statement annexes:
Annex A: APEC Disaster Risk Reduction Framework
Annex B: APEC High-Level Policy Dialogue on Food Security and Blue Economy Plan of Action
Annex C: Progress Report on Implementation of the Beijing Roadmap for APEC's Contribution to the Realization of the Free Trade Area of the Asia-Pacific
Annex D: Progress Report on Implementation of the APEC Strategic Blueprint for Promoting Global Value Chains Development and Cooperation
The 2015 APEC Ministerial Meeting was co-chaired by Philippine Foreign Affairs Secretary Albert del Rosario and Philippine Trade and Industry Secretary Gregory Domingo. It will be followed by the continuation of the 2015 APEC CEO Summit on 18 November and the 2015 APEC Economic Leaders' Meeting on 18-19 November.
# # #
For more:
View live streaming of APEC Economic Leaders' Week meetings, events and programs at this link.
For further details, or to arrange possible media interviews, please contact:
David Hendrickson (in Manila) +65 9137 3886 at [email protected]
Michael Chapnick (in Manila) +65 9647 4847 at [email protected]
More on APEC meetings, events, projects and publications can be found on www.apec.org. You can also follow APEC on Twitter and join us on Facebook and LinkedIn.