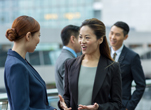 APEC Measures Women's Participation in Regional Economy
Manila, Philippines, 16 September 2015
A dashboard of indicators providing a snapshot of the status of women in APEC has been developed by the APEC Policy Partnership on Women and the Economy (APEC PPWE) as a tool to measure the progress of women's participation in economic-related activities in the Asia Pacific region.
Following consultations with data experts and economy representatives, The APEC Women and The Economy Dashboard 2015 includes indicators classified into five priority areas: a) access to capital and assets, b) access to markets, c) skills, capacity-building, and health, d) leadership, voice, and agency, and e) innovation and technology. It is an important tool that helps prioritize gender mainstreaming efforts, as well as monitor progress of ongoing initiatives.
"The Dashboard, at the onset, told us that there are clear efforts within the region to improve the conditions women are facing to facilitate their participation in the economy, and there are several areas toward this end that need more work," said Senior Analyst Carlos Kuriyama of the APEC Policy Support Unit, during the APEC PPWE meetings in Manila, The Philippines.
This year, APEC members are highlighting issues concerning the need for inclusive growth as part of economic development, including gender-related issues and small and medium-size enterprises.
"APEC aims to help women participate in regional and global markets and has indeed gained some headway as indicated in the Dashboard," said PPWE Chair Emmeline L. Verzosa. "For example, more credit information systems are collecting data from microcredit institutions that facilitate SMEs' access to credit. Most of SMEs in the region are owned or managed by women," Verzosa said.
However, despite efforts to promote the use of financial services among women, more can be done to promote women's financial literacy.
"More than 60% of adult women in APEC do not possess a savings account, which tells us that we need to raise awareness among women about basic financial services" Kuriyama said.
The Dashboard revealed progress in women's status as accessibility to training and educational programs, as well the reduction in maternal mortality rates and increasing live births. It also shows that many APEC economies have legislation in place to address cases of domestic violence, but the legal framework is inadequate or faces implementation problems in more than half of APEC economies.
In addition, the participation of women in leadership positions in politics and top management positions in the private sector remains low. Legal issues, such as restrictions in terms of maternity leave, pregnancy and remunerations are impediments for women's career advancement as they could deter many women from continuing their career paths and reaching influential positions.
The Dashboard also indicates that women face difficult conditions, even before entering the labor market, as several APEC economies do not protect them by law from gender discrimination in the hiring process or facing questions regarding their family status during the job interview.
The Dashboard also saw less participation of women in science, technology and engineering in most APEC economies and that women do not have incentives to pursue a career path in research.
"As gleaned in the tool, conditions of women differ across APEC economies," said Kuriyama. "Nevertheless, capacity-building activities, which are well-informed of best practices in other economies, can be implemented in areas that governments need to do more work."
# # #
For further details, please contact:
Ma. Lizbeth S. B. Edra +65 9452 8344 at [email protected]
Michael Chapnick +65 9647 4847 at [email protected]
More on APEC meetings, events, projects and publications can be found on www.apec.org. You can also follow APEC on Twitter and join us on Facebook and LinkedIn.