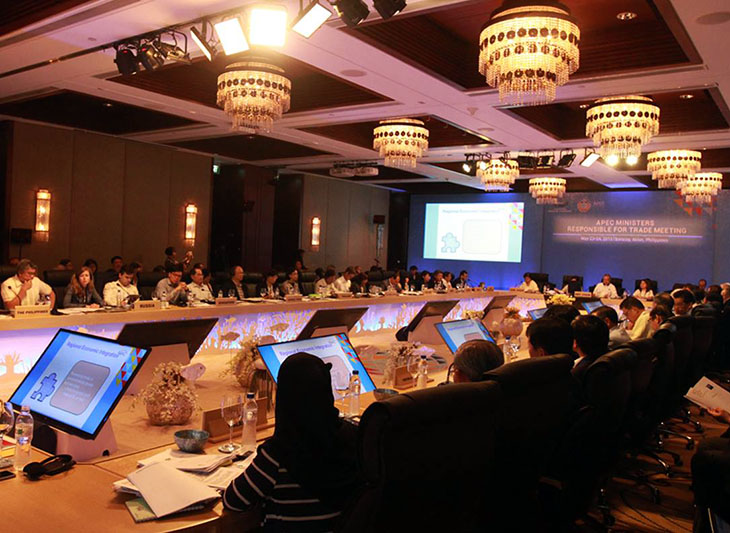 Trade Ministers from the
21 APEC members
have convened in Boracay intent on unlocking new and under-represented sources of trade and economic growth. Emphasis is on opening up cross-border business opportunities for small firms vital to boosting job creation, innovation and productivity within Pacific Rim economies.
Gregory Domingo, Philippine Secretary of Trade and Industry and Chair of the two-day APEC Ministers Responsible for Trade Meeting, explained the importance of widening micro and small business participation in international markets and taking forward ambitious policy solutions in his opening remarks on Saturday.
"Inclusive growth has been on the APEC table from the beginning," said Secretary Domingo. "Micro, small and medium enterprises play a vital role in the realization of this vision and in the long-term growth of our respective economies and the entire APEC region as they comprise the great majority of businesses."
"An important component of this effort is to bolster their ability to take advantage of cross-border business opportunities that will boost our economies in the process," he continued. "Let us note that recognizing the diverse characters and different capacities of SMEs is an important parameter in pursuing interventions that are reflective of and responsive to their needs."
APEC member economies together account for about 40 per cent of the world's population, half of global trade, 60 per cent of total GDP and much of the world's growth at present. Small and medium enterprises account for over 97 per cent of all businesses and more than half of employment in APEC economies, but a disproportionately low proportion of their exports.
Ministers are focused on expediting implementation of the World Trade Organization Trade Facilitation Agreement—simplifying customs procedures to make it easier, cheaper and faster for exporters large and small to move goods across borders. Also on the table is a new action agenda consisting of measures for globalizing micro, small and medium enterprises and positioning them to play a larger, value-adding role in industry production and supply chains.
The creation of a new virtual APEC Trade Repository that improves the transparency of each member's trade policies as well as improving market access for the region's businesses are further priorities. Plans for realizing APEC members' groundbreaking commitment to reduce tariffs on environmental goods, finalizing expansion of products exempt from tariffs under the Information Technology Agreement and lowering trade and investment barriers in services sectors are in the spotlight.
Next steps are moreover being discussed for advancing the collective strategic study for the realization of a Free Trade Area of the Asia-Pacific, or FTAAP, that builds on emerging regional undertakings such as the Trans Pacific Partnership and Regional Economic Comprehensive Economic Partnership, and includes all 21 APEC members. 'Next generation' trade and investment issues that it could contain, reflecting the requirements of doing business in the 21st century, are also being addressed.
"Inequality and poverty are still present and remain the biggest challenges to our economies," exhorted Secretary Domingo. "We need to expand trade and investment and encourage economic dynamism to achieve strong, sustainable and inclusive growth. APEC has a particular responsibility in this regard being an important regional bloc and a major player in international trade," he concluded.
# # #
For further details, please contact:
David Hendrickson (in Boracay) +65 9137 3886 at drh@apec.org
Michael Chapnick (in Boracay) +65 9647 4847 at mc@apec.org
More on APEC meetings, events, projects and publications can be found on
www.apec.org
. You can also follow APEC on
Twitter
and join us on
Facebook
and
LinkedIn
.