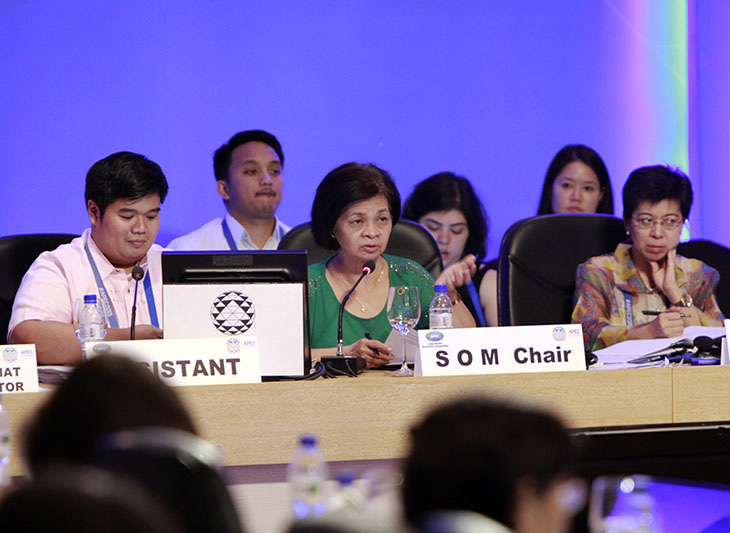 Senior Officials from the 21 APEC members, convened on the idyllic island of Boracay, are taking forward new policy actions to boost sluggish trade and growth in Asia-Pacific economies, and in ways that address the changing development landscape and deliver benefits that are widely felt.
On the table during the two-day APEC Senior Officials Meeting are next generation initiatives for strengthening regional economic integration and lifting barriers to trade and the flow of goods, services, people and capital between the region's economies. Emphasis is on ensuring that their people, businesses and governments are equipped to take advantage of new economic opportunities born out of greater interconnectedness and trade, and building smart, resilient communities that improve sustainability and living conditions.
"The delivery and rendering of services on this island was born out of the industry of the people and an entrepreneurial spirit, willing to take changes and to venture out into uncharted territory," declared Ambassador Laura Q. Del Rosario, Philippine Undersecretary of Foreign Affairs and 2015 Chair of the APEC Senior Officials' Meeting, in opening remarks. "This is the same spirit that drives the work of APEC to open the highways to new frontiers and address next generation issues with a forward-looking approach to economic policy."
Senior Officials are working out the hard details of a collective strategic study on the realization of a Free Trade Area of the Asia-Pacific, or FTAAP, to build on ongoing regional undertakings such as the Trans Pacific Partnership and Regional Comprehensive Economic Partnership and include all APEC members. In the spotlight is the formulation of the Terms of Reference, led by China and the United States, that will set the course of the study due for review by APEC Leaders in 2016.
"We approach connectivity with an end in view of an integrated economic system built on sound economic policies which are truly inclusive and empowering," noted Ambassador Del Rosario. "We want micro, small and medium enterprises to fully participate in the creation of value in global value chains because we understand that their success will redound to the benefit of all."
Under development is a new virtual APEC Trade Repository that increases the transparency of member economy trade policy in areas such as export duties and licensing, and can help all businesses and policymakers navigate the trading landscape. New APEC policy frameworks on services cooperation and addressing skills and labor gaps are also being engineered to facilitate structural reform that lowers trade and investment barriers in services sectors, widen openings for small firms to participate in global production and supply chains, and drive entrepreneurship.
Senior Officials are further working on internet economy issues and to establish an Asia-Pacific Urbanization Partnership to reduce development gaps and improve connectivity among the region's cities. A proposal for a new APEC Transportation Card that would allow people to use any type of public transport, railway and highway across APEC member economies, a concept that builds on the APEC Business Travel Card, is under consideration.
A cooperative network of sustainable cities in APEC economies composed of local government executives is moreover being developed to lend policy guidance and benchmarks for building more liveable, sustainable, smart and healthy cities. It complements measures including the APEC Low Carbon Model Town initiative as well as on-going work by members to cut tariffs on environmental goods, build green supply chains and spur environmental services development.
"APEC Senior Officials are working to see that these measures being taken forward to boost growth in the region also help populations benefit from the economic advantages of globalization," concluded Dr Alan Bollard, APEC Secretariat Executive Director.
The Second APEC Senior Officials' Meeting concludes on Thursday. It sets the tone for the APEC Ministers Responsible for Trade Meeting here on 23-24 May to accelerate progressive trade and growth.
For more:
Ten things to look out for during the APEC Ministers Responsible for Trade Meeting in Boracay are detailed at this link.
# # #
For further details, or to arrange possible media interviews, please contact:
David Hendrickson (in Boracay) +65 9137 3886 at drh@apec.org
Michael Chapnick (in Boracay) +65 9647 4847 at mc@apec.org
More on APEC meetings, events, projects and publications can be found on
www.apec.org
. You can also follow APEC on
Twitter
and join us on
Facebook
and
LinkedIn
.