APEC Ministers, Officials Set Sights on Progressive Trade Breakthroughs in Boracay: 10 Things to Look Out For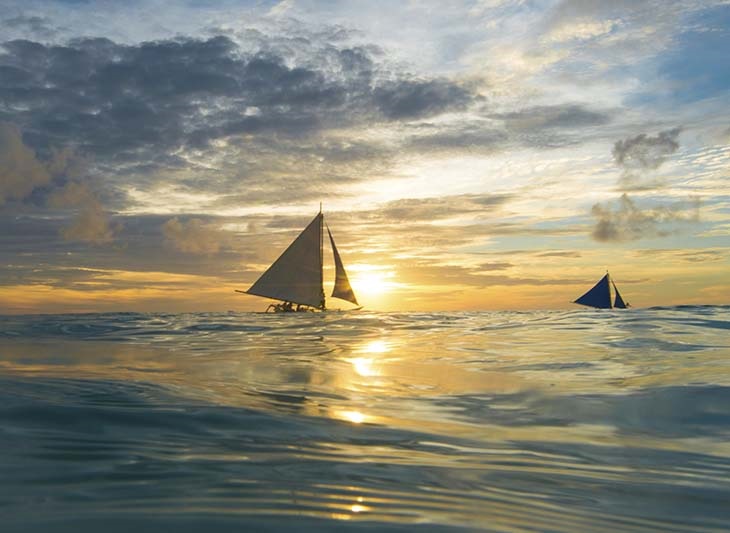 Trade Ministers, Senior Officials and working-level experts from the 21 APEC member economies are convening on the island of Boracay, 315km south of Manila, over the next twelve days intent on putting wind in the sails of sluggish trade and moving towards sunnier days ahead for economic growth and people's lives on both sides of the Pacific.
The proceedings will culminate with the 2015 APEC Ministers Responsible for Trade Meeting on 23-24 May, to be chaired by Philippine Secretary of Trade and Industry Gregory Domingo. It will build on new measures advanced by this year's Second APEC Senior Officials' Meeting on 20-21 May, chaired by Philippine Undersecretary of Foreign Affairs Laura Del Rosario, as well as policy development exchanges under more than a dozen technical working groups.
The overarching agenda will center on advancing new trade agreements and complementary policy infrastructure to improve trade and growth, in ways that progressively benefit all corners of society and economies in the region. Ten key things to look out for are detailed below:
1. How Concerning is the Trade Slowdown for Asia-Pacific economies?
APEC members account for about 40 per cent of the world's population, half of global trade, 60 per cent of total GDP and much of the world's growth at present but are grappling with the effects of slower trade. Trade Ministers and officials will assess the direction of trade, investment and growth in the Asia-Pacific and what it means for economic policy moving forward. The latest APEC Economic Trends Analysis will be unveiled by the APEC Policy Support Unit, providing insight into the region's trade and growth to help guide the proceedings.
2. New Regional Trade Agreements Take Shape
APEC Trade Ministers include the lead negotiators of all 12 participants in the Trans Pacific Partnership, 12 of 16 from the Regional Comprehensive Economic Partnership and those from three of the four founding members of the Pacific Alliance. As breakthroughs are sought on emerging trade agreements such as these, including a possible deal on TPP, focus is also on what comes next for regional economic integration.
Ministers and officials, co-led by China and the United States, will work out the hard details of a two-year collective strategic study on the realization of a Free Trade Area of the Asia-Pacific, or FTAAP—a trade agreement to include all 21 APEC members and build on undertakings such as TPP and RCEP. The study was endorsed by APEC Leaders last year in Beijing and sets up a decision on the next step following its scheduled completion in 2016.
3. Bid to Complete First Multilateral Tariff-Reducing Arrangement in 18 Years
Moving the world's first and only multilateral arrangement to cut tariffs in the last 18 years towards its successful completion is a top priority. Trade Ministers and officials will seek to build institutional capacity and support to ensure a commitment by APEC members to cut their tariffs on a list of 54 'environmental goods' such as solar panels and wind turbine blades to five per cent or less by year's end. The last multilateral tariff-reducing initiative was the 1997 Information Technology Agreement which APEC members were central to realizing. Expanding ITA so that it covers more recent product innovations remains a priority too.
4. Paving the Way for New Tariff-Reducing Arrangements
The landmark APEC environmental goods tariff-lowering arrangement, set in motion by the region's Leaders in 2012, prompted the launch of comparable global negotiations last year. The former's successful conclusion by APEC members would not only help to pave the way for a deal in Geneva, it could also serve as a model for other tariff-reducing initiatives, in other sectors or types of products. Trade Ministers and officials will coordinate on what comes next.
5. Need to Encourage Buy-In for Greater Asia-Pacific Trade…and Deliver Results
Crucially, Ministers and officials are tasked with ensuring that the benefits of new free trade agreements and complementary policy measures to boost trade and economic growth are widely felt by people and businesses. The success of their efforts will be critical to easing domestic anxiety about greater Asia-Pacific trade around the region, buoying public support and facilitating political approval processes at home. It will also go a long way to addressing an even larger, more important need: delivering favorable results to the greatest extent possible.
6. Trade Opportunities for Small Businesses Too
Can a wider opening for small businesses to participate in new Asia-Pacific trade opportunities – from value-adding manufacturing to travel and tourism – be established? There is room to do so. Small and medium enterprises account for more than 97 per cent of all businesses and over half of employment in APEC member economies but a far smaller share of their exports—less than 25 per cent in the case of the Chinese Taipei, Indonesia, Japan, Malaysia, Singapore and the United States, and under 15 per cent for Australia, Chile and Peru.
Beyond market access, Trade Ministers and officials will pursue measures to open up SME financing and investment channels, make rules and regulations for different sectors clearer and less cumbersome to navigate, support SME integration into industry production chains, and cut red tape at border checkpoints to make it easier, cheaper and faster for goods and people to move around the region—including greater simplification of customs procedures, in-line with World Trade Organization Trade Facilitation Agreement implementation requirements.
7. Fostering 21st Century Labor Forces
To solidify labor forces and build capacity for people to undertake highly skilled jobs, with higher earning potential, created by greater trade and interconnectedness, Ministers and officials will seek to open up new vocational training, skills development and education opportunities. This includes building on a new APEC Scholarship and Internship Initiative in support of the goal of a 25 per cent increase in intra-APEC university-level students to one million annually by 2020. Priority will also be on making it easier to start and develop and business as well as advancing policies that promote internet and e-commerce development as tools for entrepreneurialism.
8. Trade and Environmental Protection Go Hand-in-Hand
Will political commitments to reduce greenhouse gas emissions, and APEC-wide targets to raise energy efficiency and now double renewable energy supplies within 15 years come with the market-driven policies needed to realize them?
Trade Ministers and officials will aim to lower tariffs on environmental goods such as solar panels and wind turbine blades as well as build support for rules and regulation that promote the trade and utilization of them. They will also step up efforts to open up trade in environmental services ranging from waste management and industrial dust control to water treatment and oceans protection. These goods and services are worth an estimated USD 1 trillion annually.
9. Building Climate Change Resilience
APEC member economies are the world's most natural disaster affected, experiencing more than 70 per cent of related catastrophes such as Super Typhoon Haiyan that devastated the central Philippines. The impact of climate change is raising the risk level across the region. Ministers and officials will look to build resistance to shocks, in coordination with the private sector. This includes enhancing grassroots promotion of business continuity planning, the cross-border flow of charitable donations and local women's entrepreneurship in support of disaster reconstruction, and technological development to help mitigate the effects of climate change.
10. Innovation Boost Beckons
Next generation products and services are vital to improving the outlook for Asia-Pacific economies and raising the quality of people's lives in the region. Ministers and officials will set out to improve the policy environment for research and development, encourage greater cross-border collaboration within the scientific community and ensure the commercial viability of new scientific and technological breakthroughs. Strengthening lines of communication between the researchers originating them and policymakers and the public who ultimately determine whether they are accepted and become mainstream is an area of focus.
# # #
For further details, or to arrange possible media interviews with APEC officials, please contact:
David Hendrickson (in Boracay) +65 9137 3886 at [email protected]
Michael Chapnick +65 9647 4847 at [email protected]
More on APEC meetings, events, projects and publications can be found on www.apec.org. You can also follow APEC on Twitter and join us on Facebook and LinkedIn.