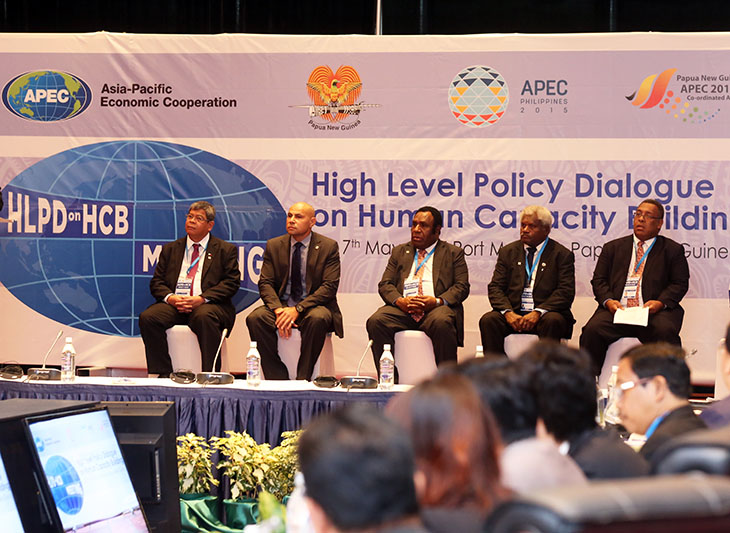 APEC Officials Release Joint Statement on Human Capacity Building
Port Moresby, Papua New Guinea, 07 May 2015
APEC member officials adopted the Port Moresby Joint Statement on the 2015 High Level Policy Dialogue on Human Capacity Building at the conclusion of their meeting on Thursday here in Papua New Guinea. They met under the theme, "Investing in Human Capital, Building Inclusive Economies."
Click to view the Joint Statement
The Joint Statement addresses the following issues:
Developing the 21st century workforce: key to inclusive and sustainable growth
Aligning education and training to industry needs in the 21st century: strategic approaches
Enhancing skills of SME workers: critical to competitiveness and linking to global value chains
The meeting was chaired by Mario Deriquito, Philippine Undersecretary for Education, and attended by three ministers from Papua New Guinea: Charles Abel MP, Minister for Planning and Monitoring; Benjamin Popomawa MP, Minister for Labor and Industrial Relations; and Malaki Tabar MP, Minister for Higher Education, Research and Science. Participants also included academia and Doris Magsaysay Ho, Chair of the APEC Business Advisory Council, representing the private sector.
The outcomes of this meeting will guide the work of the APEC Human Resources Development Working Group who will convene 14-17 May in Boracay, the Philippines.
For more:
Additional insights from the 2015 APEC High Level Policy Dialogue on Human Capacity Building can be found at this link.
# # #
For further details, or to arrange possible media interviews, please contact:
David Hendrickson +65 9137 3886 at [email protected]
Michael Chapnick (in Port Moresby) +65 9647 4847 at [email protected]
More on APEC meetings, events, projects and publications can be found on
www.apec.org
. You can also follow APEC on
Twitter
and join us on
Facebook
and
LinkedIn
.