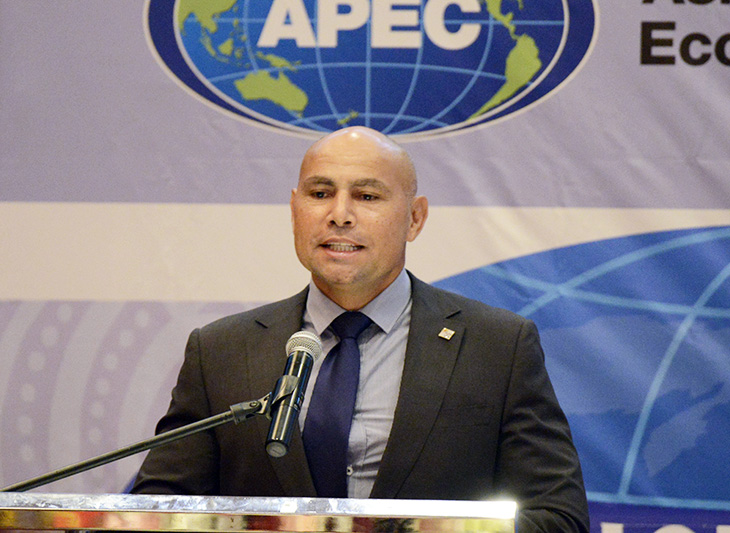 APEC Building Labor Capacity to Power Trade, Inclusive Growth
Port Moresby, Papua New Guinea, 07 May 2015
Senior education, labor and social protection officials and the private sector from the 21 APEC member economies have convened in Port Moresby intent on equipping labor forces across the Asia-Pacific to thrive as next generation trade and growth-enhancing measures come online.
Officials are gathering for the APEC High Level Policy Dialogue on Human Capacity Building and are focused on opening up new career training, skills development and study opportunities and considering private sector inputs to ensure compatibility with the needs of industry.
"From a developing economy's perspective, it is heartening to see the way the APEC agenda has evolved from the base issues of free trade and investment to embracing behind the border issues that facilitate economic engagement," said Charles Abel, Papua New Guinea's Minister for National Planning, in his opening remarks to officials.
"APEC is a forum that has truly embraced the importance of human capacity building as an essential component of ensuring regional prosperity," he explained. "This is a process that focuses on the basics of empowerment – to offer the chance of self-help that will create opportunity."
Advancing additional measures to support entrepreneurship and position small and medium enterprises to more actively engage in Asia-Pacific trade is a further point of emphasis.
Areas in the spotlight include improving financial services and information and communications technology access and training, reducing administrative barriers to starting a business, guidance on production chain integration, and greater social support for women, youth and the disabled, among others.
The SME sector alone accounts for over 97 per cent of all businesses and employs more than half the workforce in APEC member economies but contributes a disproportionately small amount of their exports.
"To maximize the participation of SMEs in the regional and global value chains, APEC needs to identify measures that will provide an open and transparent business environment suited for innovation and entrepreneurship," concluded Mario A. Deriquito, Philippine Undersecretary of Education. "SMEs must also be provided easier access to finance, markets and technology."
The two-day policy development session sets the tone for the 2015 APEC Ministers' Responsible for Trade Meeting and a preceding two-week bloc of working-level exchanges that begin on Monday in Boracay, The Philippines to drive trade and growth while ensuring the benefits are widely felt.
For more:
Greater insight on joint actions by APEC members to promote human resources development can be found at this link.
More information on APEC initiatives to strengthen the development of small and medium enterprises and their participation in trade is available here.
For details on media registration and the agenda for the 2015 APEC Ministers Responsible for Trade Meeting, click here.
# # #
For further details, or to arrange possible media interviews, please contact:
David Hendrickson +65 9137 3886 at [email protected]
Michael Chapnick (in Port Moresby) +65 9647 4847 at [email protected]
More on APEC meetings, events, projects and publications can be found on
www.apec.org
. You can also follow APEC on
Twitter
and
Sina Weibo
and join us on
Facebook
and
LinkedIn
.