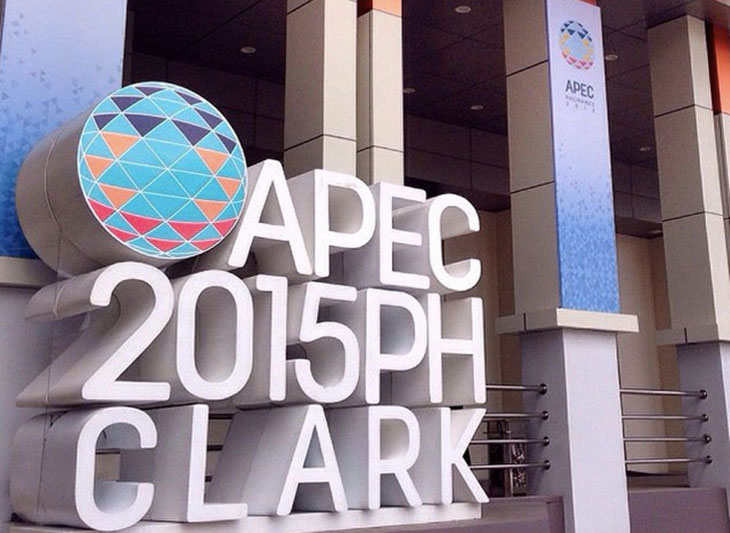 APEC Launches New Assault on Inequality
Clark, Pampanga, Philippines, 28 January 2015
On the heels of the Pope's visit and the release of the report to the World Economic Forum that half of all wealth will be in the hands of the richest one per cent in 2016, the Philippines' host year as APEC Chair in 2015 will open with the launch of a multi-faceted "inclusive economies" initiative to combat inequality and open the gates to a new era of regional and global growth.
Over the next 11 days in Clark and Subic, approximately 100 kilometers north of Manila, the archipelago will host some 1,700 Senior Officials and technical experts from the 21 APEC member economies tasked with getting this policy initiative underway. Set in motion by President Benigno Aquino III, focus is on joint actions that strengthen trade and investment while reconciling these traditional drivers of growth with new and underrepresented channels to improve productivity, job creation, wages and economic sustainability.
"APEC members are launching a new assault on inequality in a bid to establish more inclusive economies that level the playing field and open new opportunities for people all across the Asia-Pacific region," declared Ambassador Laura Q. Del Rosario, Philippine Undersecretary of Foreign Affairs and 2015 Chair of the APEC Senior Officials' Meeting tasked with directing the 12-month campaign. "Our mission is about doing what's morally right and good for growth."
The First APEC Senior Officials' Meeting on 6-7 February in Clark will round out the opening salvo. Actions will center on items ranging from the Free Trade Area of the Asia-Pacific (FTAAP), trade facilitation and implementation of the WTO Bali Package, and environmental goods and services liberalization, to boosting anti-corruption, counter-terrorism, disaster preparedness, human capital, women's empowerment and SME development, resilient infrastructure and oceans and fisheries-related issues, among others.
Senior Officials will build on technical decisions made by more than 20 APEC working groups gathered to advance these shared priorities. They will also hear policy recommendations generated by senior private sector executives from the APEC Business Advisory Council, known as ABAC, during their parallel meeting taking place this week in Hong Kong, China and who are scheduled to hear from Chief Executive Leung Chun-ying on Wednesday evening.
"A 'new normal' has set in for Asia-Pacific economies," explained Dr Alan Bollard, Executive Director of the APEC Secretariat. "The region continues to power much of the world's growth but it is falling short of what we have seen in the past and, alarmingly, opening up gross discrepancies in economic engagement and wealth accumulation that jeopardize the underlying health and competitiveness of economies—both developed and developing alike."
"Getting the most out of trade and investment is essential to lifting productivity to levels that we would all like to see but it requires a coordinated and sustained effort to address new and deepening economic, social and environmental imbalances," Dr Bollard concluded. "Recognition of the challenges at hand is clearly there within the Asia-Pacific."
The Philippines, a founding APEC member economy and home to 100 million people, is serving as Chair for the second time. It last held this role in 1996 during the administration of President Fidel V. Ramos.
For more:
The entire First APEC Senior Officials' Meeting (SOM1) and Related Meetings schedule can be viewed here.
Packed with photos, synopses, data and additional planning information, the newly unveiled APEC Outcomes and Outlook 2014/2015 puts APEC's agenda into greater context.
# # #
For further details, or to arrange possible media interviews with APEC officials, please contact:
David Hendrickson +65 9137 3886 at [email protected]
Michael Chapnick +65 9647 4847 at [email protected]
More on APEC meetings, events, projects and publications can be found on www.apec.org. You can also follow APEC on Twitter and Sina Weibo and join us on Facebook and LinkedIn.