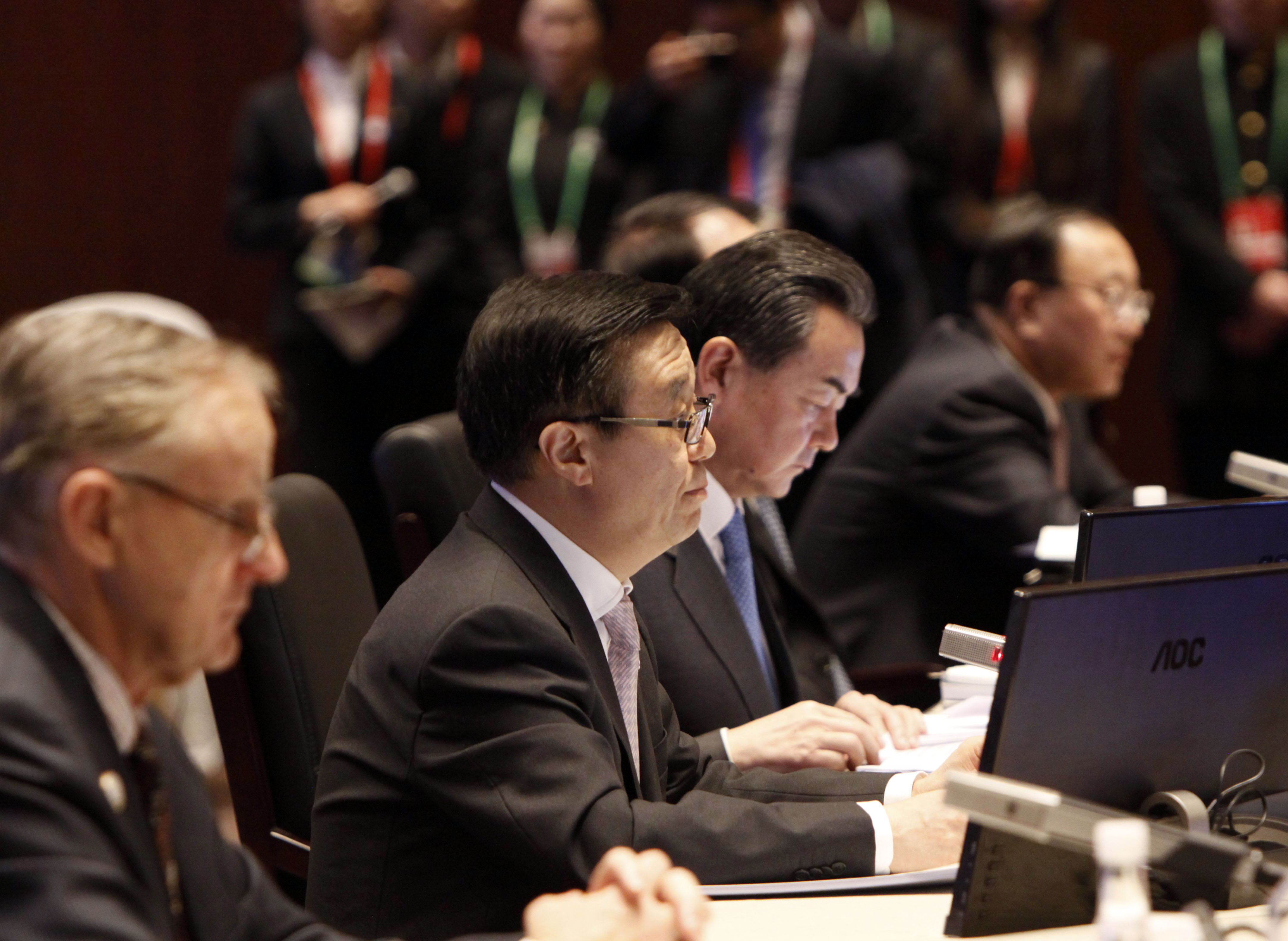 APEC Ministers: World Needs Greater Asia-Pacific Partnership
Beijing, People's Republic of China, 08 November 2014
APEC Ministers commenced their two-day meeting on Friday in Beijing determined to enhance the management of the shifting regional and global landscape while deepening Asia-Pacific partnership to bolster economic recovery and deliver a new era of innovative, sustainable growth that benefits more people.
APEC Ministerial Meeting Co-Chair, China's Foreign Minister Wang Yi, set the context for the formulation of measures to boost the region's position as the central driver of growth for the world economy and mechanism for tackling emerging global challenges, made possible through economic reform and cooperation within APEC.
"Our first ministerial meeting 25 years ago today was a small step taken by APEC but it was a big step for Asia-Pacific cooperation as it started a great journey of Asia-Pacific economies working together to pursue development, progress and prosperity," said Minister Wang. "Today, more than ever, the world needs a harmonious, progressing and prosperous Asia-Pacific."
"Our mission is both to promote our own development and lead global growth, and we face both unprecedented opportunities and challenges," Minster Wang explained. "APEC must fulfill the mission of our times and demonstrate strategic vision." He added that Ministers' efforts will lay the groundwork for the APEC Economic Leaders' Meeting to be chaired by China's President Xi Jinping.
APEC accounts for about 40 per cent of the world's population, half of global trade and 60 per cent of total gross domestic product. But the region is facing a period of considerable transition whose outcome will be determined by the capacity of member economies to expand their practical cooperation and exercise increased global leadership to mitigate high risk levels, Ministers agreed.
"The road ahead for APEC will not be smooth and economic cooperation in the Asia-Pacific still faces multiple challenges," cautioned China's Commerce Minister Gao Hucheng, who is also Co-Chair of the meeting. "The world economic recovery continues to slow down, there is a lack of growth momentum, the international market demand is sluggish and the basis for recovery remains unstable."
Actions being taken forward by Ministers include the development of a new strategic plan on capacity building to promote trade and investment, and facilitate the arrival of emerging regional trade agreements that lead to the ultimate realization of the APEC goal of a Free Trade Area of the Asia-Pacific. They are also mapping APEC's path to advancing global trade which will be shaped by a briefing from World Trade Organization Roberto Azevedo on Saturday.
Finalizing initiatives to improve the ease of doing business in the region through greater reduction of red tape and costs for moving goods across borders, internet economy development and the use of interoperable global data standards, and fighting corruption are further priorities. Promoting renewable and clean energy trade and investment and greater ocean cooperation to strengthen economic sustainability are also in focus.
"The Asia-Pacific has become the most interconnected in terms of global value chains and supply chains but there remain gaps of development amongst its members," Minister Gao noted. "There is still room to grow for strengthened connectivity of industrial sectors, human resources, infrastructure, urbanization and information."
"APEC members need to show sufficient wisdom and courage, continue to firmly support the multilateral trading system and accelerate the Asia-Pacific integration process with FTAAP as its long-term goal and global value chain cooperation as its focus," he concluded. "At the same time, we should actively conduct economic and technical cooperation and seek mutual benefit, win-win results and common development through closer partnerships."
The APEC Ministerial Meeting will conclude on Saturday and follow with a host press conference led by Minister Wang and Minster Gao. The 2014 APEC CEO Summit will take place on 9-10 November and the 2014 APEC Economic Leaders' Meeting on 10-11 November.
# # #
For more:
Videos of the opening remarks by the 26th APEC Ministerial Meeting Co-Chairs, Minister Wang and Minister Gao, can be found here.
Program details for the 2014 APEC Economic Leaders' Week, including specific event times and venues, can be viewed at this link.
Current and former APEC Leaders and Ministers describe how member economies are building on the region's progress in the new APEC 25th anniversary video.
For further details, please contact:
David Hendrickson +65 9137 3886/+86 132 4176 9694 at [email protected]
Michael Chapnick +65 9647 4847 at [email protected]
More on APEC meetings, events, projects and publications can be found on www.apec.org. You can also follow APEC on Twitter and Sina Weibo and join us on Facebook and LinkedIn.