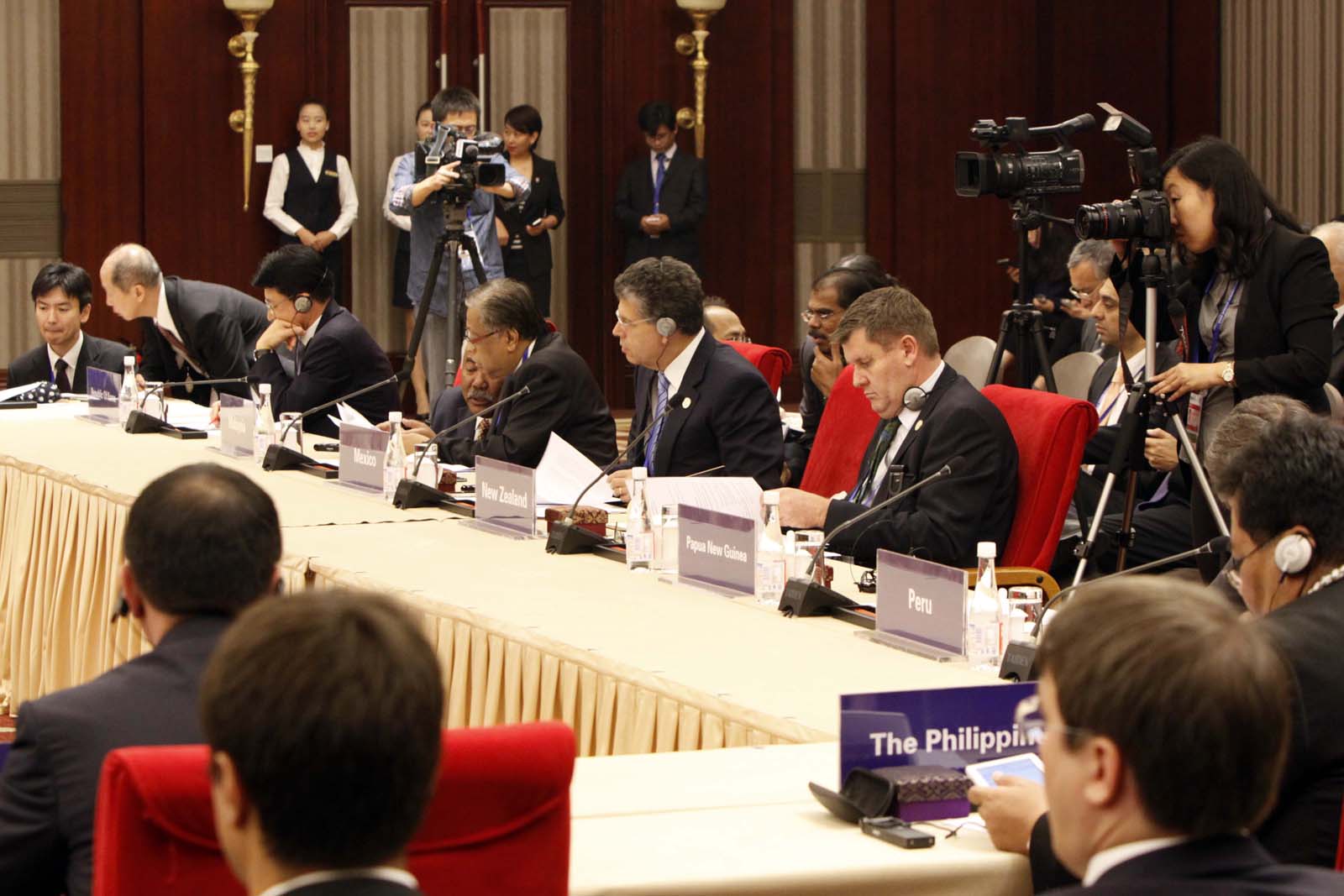 APEC tackling new food security challenges
Beijing, People's Republic of China, 19 September 2014
Agriculture and Food Ministers from APEC economies have unveiled a new innovation-based cooperation framework to ensure safe, accessible and sustainable food supplies amid changing global conditions.
Greater measures to feed the region's 2.8 billion people and alleviate global hunger are described in the Beijing Declaration on APEC Food Security issued by Ministers after the 3rd APEC Ministerial Meeting on Food Security that concluded here on Friday.
View the Beijing Declaration on APEC Food Security
"Despite the enormous progress made in agriculture by the Asia-Pacific region, there is still imbalance among economies and our food security still faces great challenges," said Wang Yang, Vice Premier of China. "Population growth, climate change, environmental pollution and natural disasters are posing new difficulties to agriculture development."
"Now is a critical juncture for us," echoed Han Changfu, China's Minister of Agriculture and Chair of the meeting. "We have to support science and technology to safeguard that we can feed ourselves and achieve food security."
Ministers welcomed an Action Plan to Enhance Connectivity of APEC Food Standards and Safety Assurance. Emphasis is on strengthening food safety management through international standards alignment, the development of risk-based requirements and establishment and improvement of early warning, traceability and recall systems.
Ministers moreover committed to enhance surveillance and early warning information- sharing as well as personnel training on trans-boundary animal and plant diseases and strengthen information exchange and cooperation on safety of food imports and exports.
"The challenge of food security has always been on the top of human survival and it's a big concern for all APEC economies to tackle," said Ren Zhengxiao, Administrator of China's State Administration of Grain. "We are strengthening regional cooperation to build our capacity to meet long-term food production and delivery requirements."
"Our economies are utilizing a Policy Partnership on Food Security as an efficient tool for integrating with business to achieve food security," noted Nikolai Fyodorov, Agriculture Minister of Russia which hosted the 2nd APEC Ministerial Meeting on Food Security in Kazan, in opening remarks. "Innovative development of agriculture as well as its infrastructure based on the wide investment calculation and trade development are key priorities."
Ministers called upon APEC economies to step up efforts to liberalize and facilitate agricultural trade and investment in the APEC region and combat protectionism, including bans and other restrictions on food exports that may cause price volatility.
To address the effects of climate change, Ministers agreed to pursue joint research of new eco-friendly technologies, planting patterns and disease and pest control methods. They also welcomed a new APEC Action Plan for Reducing Food Loss and Waste.
"There's a whole set of questions about food in global value chains," said Dr Alan Bollard, Executive Director of the APEC Secretariat. "We know that a lot of food is actually lost in the distribution process and the topics of research and development, science, regulation and environment are much more complex in the area of agriculture."
One-third of food for human consumption is discarded or lost annually, according to the UN Food and Agriculture Organization. If one-quarter of all food lost or wasted could be saved, it would be sufficient to feed the world's nearly 850 million undernourished people.
"Any way you slice it, agriculture is the toughest area we face in terms of building cooperation and achieving the results we all want to see," concluded Dr Bollard. "APEC economies are advancing almost 40 initiatives, action plans and proposals for collaboration to provide much needed direction for the agriculture sector moving forward."
For more:
Downloadable high resolution photos from the 3rd APEC Ministerial Meeting on Food Security are available at this link.
# # #
For additional details, or to arrange possible interviews, please contact:
David Hendrickson +86 132 4176 9694 (in China)/+65 9137 3886 at [email protected]
Michael Chapnick +65 9647 4847 at [email protected]
Information about APEC's 2014 priorities and initiatives can be found on www.apec.org. You can also follow APEC on Twitter and Sina Weibo and join us on Facebook and LinkedIn.