Traffic-busting professor wins 2014 ASPIRE Prize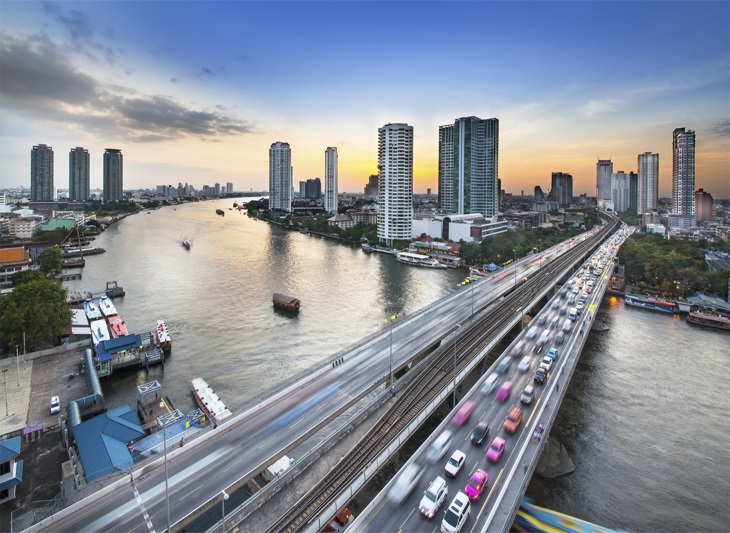 Science, technology and innovation development officials from APEC economies have named Dr Agachai Sumalee, a Thai professor based in Hong Kong, China, the winner of the 2014 APEC Science Prize for Innovation, Research, and Education.
Dr Sumalee was selected from a pool of scientists under the age of 40 for creating a groundbreaking road traffic management system that has slashed commuting times in the greater Bangkok area and was developed in collaboration with researchers from across the APEC region. Cao Jianlin, China's Vice Minister of Science and Technology, presented the award, also known as the ASPIRE Prize, at a ceremony on Wednesday in Beijing.
"As an important contributor to a better life, intelligent transportation will greatly facilitate green and sustainable growth, environmental protection, energy conservation and low-carbon economy in the APEC region," noted Vice Minister Cao. "Among the 20 mega cities around the world, 11 are located in the APEC region."
"Rapid urbanization, combined with the increasing volume of goods and people flows, is weighing significantly on transportation infrastructure across the Asia-Pacific," said Dr. Agus R. Hoetman, Chair of the APEC Policy Partnership on Science, Technology and Innovation which runs the ASPIRE Prize, whose 2014 theme was "intelligent transportation."
"Better management of transportation arteries is essential to building smarter, low-carbon cities that support sustainable urbanization and increased capacity for economic growth," Dr. Hoetman explained. "The development of intelligent transportation solutions is being taken forward by new ideas and innovations that are the product of deepening cooperation between researchers in our region."
Dr Sumalee, an Associate Professor at Hong Kong Polytechnic University's Department of Civil and Environmental Engineering, developed a new kind of modelling that allows highway managers to predict traffic conditions and prevent congestion.
The application of Dr Sumalee's traffic management system by the Thai Expressway Authority has helped to improve road traffic in and around Bangkok and streamline the daily commute for the area's 12 million people. The economic benefits of the system, when trialed on a 17-mile stretch of Bangkok expressway over a one-year period, was estimated at more than USD1 million, according to an independent assessment.
"We are the first research team to develop a mathematical technique called Stochastic Cell Transmission Modelling to create a real-time, intelligent traffic-management systems that works," said Dr Sumalee. "Predictive mathematics is relevant to highway traffic management because it helps us analyse the minor events that lead to major delays."
Dr Sumalee's system was based on research he conducted in Bangkok at the King Mongkut Institute of Technology, in collaboration with the Thai Expressway Authority, and advanced with assistance from a doctoral student from China. The approach was subsequently tested in partnership with traffic specialists at Kyoto University in Japan and using highway flow data provided by the University of California, Berkeley in the United States.
The ASPIRE Prize recognizes cutting-edge ideas and technologies fostered by exchange between researchers across APEC economies and their contribution to trade and economic growth in the region. Wiley and Elsevier, publishers of scholarly scientific knowledge, were sponsors of the 2014 ASPIRE Prize and its USD 25,000 in prize money.
"Scientific collaboration across the Asia-Pacific region is driving the advancement of groundbreaking research and innovation vital to improving lives and livelihoods," said Stephen M. Smith, President and CEO of Wiley.
"Young researchers like Dr Sumalee shine a light on the innovative solutions needed to tackle shared transportation and urbanization challenges," added Young Suk "Y.S." Chi, Chairman of Elsevier.
For more information on the ASPIRE Prize please visit: http://www.apec.org/aspire.
# # #
For additional details, or to arrange possible interviews, please contact:
David Hendrickson +86 132 4176 9694 (in China)/+65 9137 3886 at [email protected]
Michael Chapnick +65 9647 4847 at [email protected]
Information about APEC's 2014 priorities and initiatives can be found on www.apec.org. You can also follow APEC on Twitter and Sina Weibo and join us on Facebook and LinkedIn.